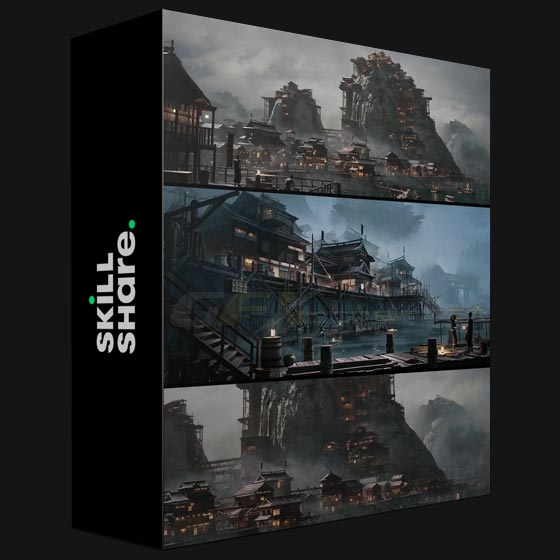 I am really excited to share this Environment Concept Art Tutorial where I go over my whole Concept Art process that I have been working on and refining since I started in the industry.
Covered in this tutorial: Reference gathering, Sketching, Building out a 3D Kitbash Set in Blender, Blocking out the scene in Blender and Painting over both Image 1 and Image 2 in Photoshop. I included as well a section of tips and tricks of how I use Blender as well as a section of Blender Addons, how I render in Blender and how I bring the image into Photoshop to get started. There is over 3 and a half hours of fully voiced content.
Chapters:
Introduction
1). References
2). Sketching
3). Kitbash Set Modeling
4). Environment Blockout
5). Paintover: Image 1
6). Paintover: Image 2
7). Blender Tips, Addons and Rendering
There is over three and a half hours of fully voiced tutorial content!
Programs Used: Blender, Photoshop
If you are a beginner, intermediate or advanced artist who is looking to expand upon their 3D workflow with Blender and Photoshop, I believe that this tutorial can help with that. Thanks for stopping by!
Basics of Photoshop and Blender are recommended to get the most out of this tutorial. Photoshop files, Blender files and Pureref files not included. Videos are speed up, similar to the speed in the trailer.
https://www.anonymz.com/?https://www.skillshare.com/classes/Concept-Art-Create-Environment-Concept-Art-in-BlenderPhotoshop/1914617960
Download Links:-
Password/解压密码:www.tbtos.com