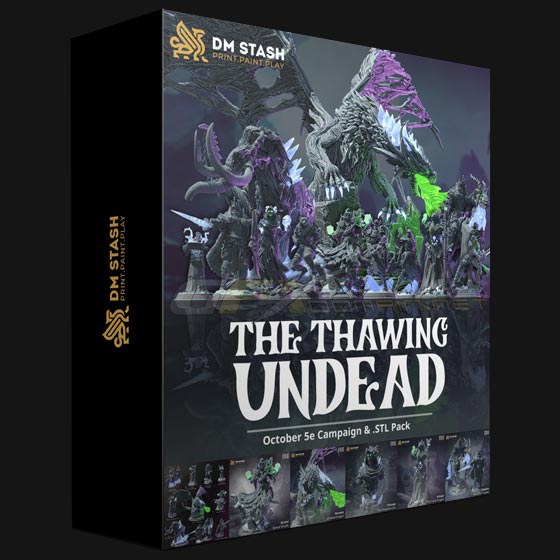 STL
The Thawing Dead (DM Stash Oct '22 Bundle)
[Note: Consider joining our Tribes before purchasing our bundles. Get 50% off on all MMF purchases and our latest month release]
A full moon has hung in the sky above Tharador for several weeks now. In the wake of this omen, a cold wind strikes from the north, and Undead have began thawing from the frozen tundra of the mysterious and remote Mammoth Isle. Only a few brave adventurers might be able to halt such an evil, cutting it off before it is too powerful to stop.
Included in the STL Pack is
12x high quality models of frozen undead-themed monsters and some chilly NPCs
2x intricately detailed busts of the models Thirazar the Forgotten Lich and Yinsylim the Fallen Paladin
Pre Supported variants of each model (.lys files included)
Arisen Warriors (two variants) [Medium Sized Models – 25mm base]
Artizak The Unruly Dragon [Medium Sized Model – 25mm base]
Brisini – Boreal Wraith [Medium Sized Model – 25mm base]
Curatio Ounce – Snow Stalker [Medium Sized Model – 25mm base]
Darius Burrows – Cleric of Cedhelieth [Medium Sized Model – 25mm base]
Fallen Yinsylim – Fallen Paladin (Mounted/Unmounted variant) [Medium & Large Sized Model – 25 & 50mm base]
Nerevin – Undead Dragon [Gargantuan Sized Model – 100mm base]
Syrinlena – Seeker of Erdrydion [Medium Sized Model – 25mm base]
Thirazar the Forgotten – Frozen Lich [Medium Sized Model – 25mm base]
Tjornir – Undead Mammoth [Huge Sized Model – 75mm base]
BUST – Fallen Yinsylim [95mm Model Height]
BUST – Thirazar [95mm Model Height]
Blank Simple & Ornate bases at 25mm, 50mm and 75mm Width
Included in the month's campaign is
1x Original Full Length 5E Module set on Mammoth Isle, a remote colony where the populace has mysteriously vanished save for the one walled town on the island. The party must push into the heart of the island and halt whatever evil is driving these disappearances (8-16+ sessions of playtime, levels 5-7).
1x Brand NEW Cleric Subclass: Snow Domain
1x Full size A2 printable map of Mammoth Isle
1x Full size A2 printable maps of the city of Vorkweg
12x original Battle Maps, including a 3 level dungeon (for use in person or digitally)
10x Original Statblocks for CR3-10 characters and monsters to be used in the campaign
9x Original Magic Items that can be attained throughout the campaign or given as rewards for encounters
October's Campaign – The Falling Moon (Pt II) will continue the events laid in Part I. The origin of Fjornath, an undead Fey Guardian found haunting the forests of Karkanoth has been traced back to the isolated Mammoth Isle off the coast of Greypeak. The isle has been found to be overrun with undead, and the moon glows brighter and casts a violet light on the isle. Through the crowds of frozen dead, the answer to the mysteries might be found.
https://www.anonymz.com/?https://www.myminifactory.com/object/3d-print-the-thawing-dead-dm-stash-oct-22-bundle-251922
Download Links:-
Password/解压密码:www.tbtos.com
cialis 20mg price

Administer once daily, on an empty stomach, one half to one hour before breakfast 2