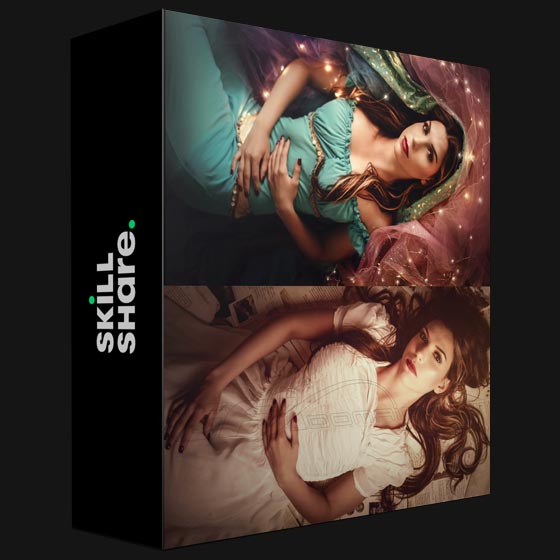 Welcome to our course "Modern Vintage" – a new tutorial in our "Creative Portrait Series".
In our photo studio, we have led over 50 photography workshops, specializing in creating conceptual photoshoots. And in this course, we will show you a style that was requested by many photographers, models and clients – a truly timeless and glamorous fine-art concept:
HOW TO CREATE AN AMAZING SERIES OF "VINTAGE-INSPIRED" IMAGES!
From the 1920's to the 1970's… WE WILL COVER IT ALL! The history of film-making and photography in THE GOLDEN AGE OF HOLLYWOOD, the characteristic looks, the style, the lighting, live "fly on the wall" shoots – plus tons and tons of photography set ideas and inspiration!
But first of all: Why do you need to learn about "Modern Vintage" photography?
Vintage inspired movies and TV shows are trending right now and more and more people fantasize about the "good old days":
Models want to show a different side of themselves in their portfolios and couples ask more and more for retro style engagement shoots, or even design vintage inspired weddings. If you look on Pinterest, Facebook or Instagram you will see tons and tons of images that resemble vintage styles.
But why?
Life wasn't necessarily easier back then. However: The images that we see on the news or on social media make it appear as if life was simpler yet more glamorous!
Or at least looked more desirable: No complicated technologies, no internet trolls, no viral tweets – just beautiful neighborhoods with classic cars and classic people (who talked to each other because they knew their neighbors). You get the idea.
And talking of people – they all looked so well dressed and fancy… When we look at those images we can escape reality for a while.
We wonder how life has been for these people, there is a dreamy melancholy, and it appears almost magical. I mean: Who doesn't want to look glamorous and whimsical like a Hollywood Starlet or a Movie Icon on a film set – or at least would like to sneak into a time machine to get a glimpse of the past?
There is something so glamorous and timeless about those vintage images that it's no wonder that many clients love to be captured this way…
Simply put, there is no way around it: Photoshoots that resemble a past era are more in demand than ever, and are a fantastic opportunity for us photographers to create timeless yet fun photoshoots that capture our clients in a way that they will cherish forever!
This Course Is For You – If You Want To:
Offer a new category of photography for portraits, engagements or weddings
Offer specialized model portfolios
Create interesting Mini-Sessions,
Increase your profit while standing out from your competition with fine art imagery
Create new set-ups for your portraiture and are wondering "How can I style my photos in a certain way?" (maybe with the help of posing, lighting, exposure or photoshop)
Get out of a creative rut and would love to explore a new field of techniques
Enhance your portfolio with new styles – all while working on a budget
Or maybe you are just trying to get a better understanding of the history of vintage photography!
If any of these desires describe you, then this course is for you! If you love vintage images with a modern twist, then I promise you: You don't want to miss out! 🙂
All the best,
Sandy
https://www.anonymz.com/?https://www.skillshare.com/classes/Creative-Portrait-Photography-Series-Modern-Vintage/89751256

Download Links:-
Password/解压密码:www.tbtos.com
835323 623584Spot ill carry on with this write-up, I truly feel this site requirements a fantastic deal far more consideration. Ill oftimes be once more to see far much more, several thanks that information. 573334

Your article gave me a lot of inspiration, I hope you can explain your point of view in more detail, because I have some doubts, thank you.