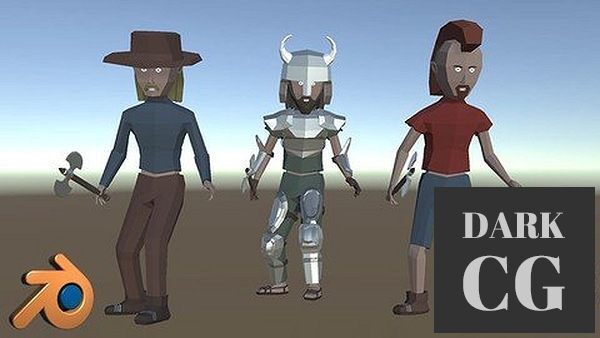 Learn how to Model, Color, Rig, Animate and Script a Low-Poly 3D Character in Blender for Unity Video Game Developers
What you'll learn
Learn how to model a low-poly character in Blender
Learn how to add bones and rigging to a low-poly character model in Blender
Learn how to apply an animation to a Humanoid Rig in Blender
Learn how to export/import a low-poly character model from Blender to Unity
Learn how to configure Unity's Animator to setup a state machine for your character
Learn how to write a script to transition animations for your character in Unity
Learn how to change animation states VIA script in Unity
Learn to use Shape Keys in Blender and Unity
Requirements
Students should already have a general knowledge of Blender & Unity and be able to navigate, find their way around, and so forth
If you are new to Blender, I highly recommend my first course "Learn Blender 3D Modeling for Unity Video Game Development"
A little bit of experience with C# would be useful for following this course, although I do take the time to explain everything in great detail
Description
Welcome to Low-Poly Character Modeling & Animation in Blender for Unity, a course by Billy McDaniel.
In this course, we'll design a low-poly, flat shaded cartoon-style character model in Blender with separate parts for facial features including eyes, nose, teeth, ears, hair, hats & helmets, clothing, armor and melee weapons. We'll setup bones and rigging so that we can fully animate our new model. And then I'll show you how to use a grayscale color atlas material that allows you to create any colored material you desire from within Unity. Next, we'll setup the Animator state machine and write a script that allows us to change animation clips on demand. We'll download a few clips from Mixamo's free website to get started.
By the end of this course you should have a good foundation to build a variety of character models in Blender with the freedom to swap out animations however you see fit. My goal is to help you finish this course with all of the experience you need to start making low-poly, flat-shaded characters and enemies for your Unity video games.
So if this sounds like something you'd like to start doing on your own… then welcome aboard. I hope to see you in the next lecture.
Who this course is for
Anyone who wants to learn how to make the low-poly, flat shaded, cartoony character designs as seen in this course's preview videos
Anyone interested in a complete walk-through of character modeling, color atlasing, adding bones and rigging, reusing animations, importing into Unity, setting up the state machine and some scripting
Download links:
Password/解压密码:www.tbtos.com