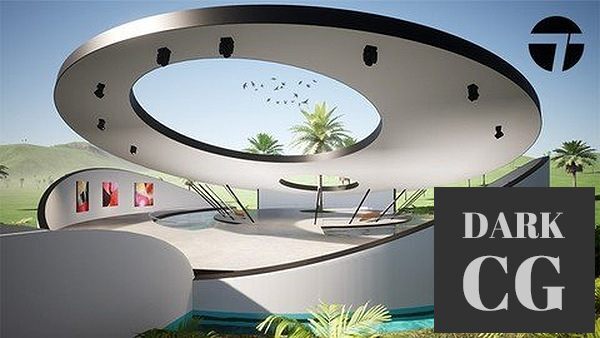 From Basic 3D Spaces To Beautiful Environments
What you'll learn
Transform your basic 3D architectural designs into stunning virtual environments
Create photorealistic renders and animations in Twinmotion
Quickly learn how to work with lighting, materials, and objects provided in Twinmotion
Learn where all the tools you need are and get accustomed to the UI in Twinmotion
Requirements
You need to have a computer capable of running Twinmotion
Description
This course is designed to help anyone interested in architecture and design to get amazing results for their virtual presentations. Twinmotiion is very much like a bridge software, ideal for linking 3d models created in your favorite 3D software package, to more powerful tools like Unreal Engine. It includes a vast array of materials, lights, and objects available for us immediately. So it is the perfect solution for beginners as well as seasoned 3D designers, allowing them to quickly create amazing results fast!The best way to learn is to work on a project. So a basic model, created in Cinema 4D is provided so you can use it to follow along and learn new skills very quickly. In just under a couple of hours, you'll go from novice to creating stunning outputs like a pro!You don't need to know anything apart from basic 3D skills.If you join the course now you will get instant access to the project models.WHAT THIS COURSE COVERSAt the beginning of the course, we will look at how to prepare a model and export it so we can work with it in Twinmotion (we will be using Cinema 4d, but any 3D software will do).Then we will look at the basics of navigation and using the tools we need in Twinmotion. We will also explore the various ways of working with the existing library of 3d models and material in TwinmotionWe will then dive deeper into the capabilities of Twinmotion by looking at materials and how to adjust them with additional texture maps.Next, we will explore the exciting world of lighting inside TwinmotionAnd last but not least, we will learn how to export a whole suite of presentation materials including animations, still renders, and panoramasAt the end of the course, you will have learned the essential skills required to create amazing outputs for presentations, and to sell architectural concepts, on and offline.So If you are seriously considering grabbing the attention of buyers, clients, and prospects, it's a no-brainer. Twinmotion is definitely for you. It will save you countless hours of rendering and tweaking in other 3D software. You'll quickly learn everything you need to know. So let's jump in!Lifetime access is granted if you buy this course now.
Overview
Section 1: Preparing the basic 3D model in Cinema 4D for Twinmotion
Lecture 1 Getting your basic model ready in C4D
Lecture 2 Import your FBX model into Twinmotion
Section 2: Twinmotion basics
Lecture 3 Basic navigation in Twinmotion
Lecture 4 Optimising viewport quality
Lecture 5 Basic transformation tools
Lecture 6 Add objects to your scene
Section 3: Working with materials in Twinmotion
Lecture 7 Basic viewport lighting setup
Lecture 8 Adjusting materials (Part1)
Lecture 9 Adjusting materials (Part2)
Section 4: Working with lights and reflections
Lecture 10 Working with lights
Lecture 11 Getting better reflections
Section 5: General Settings and Landscaping
Lecture 12 Tools overview – The Context Tab
Lecture 13 Tools overview – The Settings Tab
Section 6: Working With Cameras, Creating Videos and Panoramas
Lecture 14 Tools overview – The Media Tab
Lecture 15 Tools overview – Camera settings
Lecture 16 Create Videos
Section 7: Creating Panoramas and Special Outputs
Lecture 17 Create a Panorama
Lecture 18 Working With Phasing and Scene States
Lecture 19 Create a Presentation
Lecture 20 Create a Panorama Set
Section 8: Exporting The Project
Lecture 21 Export your project
Section 9: The Learning Path and staying connected with The Instructor
Lecture 22 The Path To Becoming a virtual Architectural Designer
Lecture 23 Stay Connected
3D designers who want to expand their skills,Designers looking to create, present and sell virtual environments,Anyone who needs to turn their basic 3D models into Stunning virtual environments, fast.
Download links:
Password/解压密码:www.tbtos.com