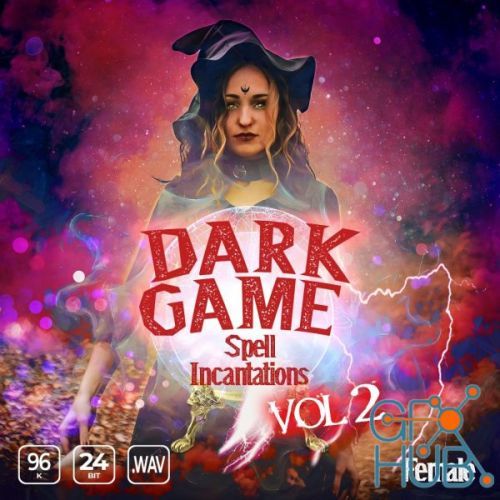 Epic Stock Media – Dark Game Spell Incantation Voices Female Vol 2 (WAV).
This is the third sound pack installment of the "Dark Game Spell Incantation Voices" series. Explore through a wide ranging selection of over 540+ female fantasy game styled magic voices, spiritual vocal spells, & enchanting game sound effects. This designed magic voice spell sound effects library features a female shaman game character inspired by hit RTS & Fantasy Games.
Get ready to have 98 inspiring female spell voice sound sets featuring mystical enchants, conjures, summons, ritual chants, imaginative supernatural beings that are perfect for any fantasy production! Each voice sound set will have a couple variations of both dry & wet sound files so you can choose the best performance for your game audio or film sound production.
Dark Game Spell Incantation Voices Female is designed specifically for magic & fantasy games. The audio texture of the entire sound library is calm mixed with assertive mystical spell casting. This collection is perfect for designed in-game magic, sweetening pre-existing spell sounds & adds a unique collection of realistic fantasy voice texture, alerts, notifications to your sound bank.
Useful in MMO, RPG, animations, video games, mobile apps, motion graphics, film, and software development, Dark Game Spell Incantation Voices Female Vol. 2 is a go-to collection of magical voice spell incantation voices and audio creativity. Inside you'll find distinctive, immersive, voice sound effects, vocalizations, special SFX & more. Creating compelling cinematic game characters and outstanding gameplay audio experiences has never been easier.
All sound effects labeling is UCS compliant & is organized into categories to make it easier to navigate with understandable folder structures. Has extensive metadata embed in the files using soundminer to help you find the right sound at the right time.
Product Details:
• 546 Sound Files
• 273 Designed Voice Spell Sound Effect Files
• 273 Dry Source Voice
• Over 22 Minutes Of Voice Sounds
• 98 Magic Voice Spell Sound Sets
Download links:
Password/解压密码:www.tbtos.com