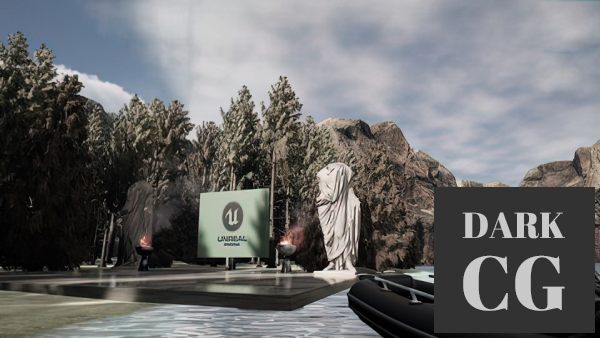 From scratch to fully utilizing the Sequencer for Animations and Cinematics.
What you'll learn
Download, launch and navigate Unreal Engine 5
Building scenes within Unreal Engine
Importing and migrating assets between projects
Using the Sequencer for animations and how to render
Requirements
No prior experience is required. We'll go through everything from downloading the engine all the way to rendering the final animation
Description
Unreal Engine 5: Complete Beginner's Course for Cinematic AnimationsLearn Unreal Engine 5 through this step by step guide to get you from knowing nothing about 3D engines, to making your very own cinematic animations with it.This class is based on the production ready version of Unreal Engine 5 (April 2022 release). You can also use the Early Access version, the only difference will be the toolbar layout, otherwise everything else should be the same.Unreal Engine is one of the best game engines but equally has all the tools that can also be used in filmmaking and it has been applied by all levels of professionals in the industry.The course will go through everything you require, including:Unreal Engine WalkthroughProject creationWorking with FoliageQuixel Bridge for free 3D assetsThe Epic Marketplace for sourcing for free and paid asset packsMixamo for free characters and animationsWorking with Particle simulation (Fire & Smoke)Working with physics simulation on charactersUse of the sequencer for animationTaking screenshots in the projectMovie render queueAdding sound and camera effectsFeel free to reach out to me at any point during the course. I'll be available to answer all the questions Let's kick off this journey together, see you in the first class!
Overview
Section 1: Introduction
Lecture 1 Introduction
Lecture 2 Downloading Unreal Engine 5
Lecture 3 User Interface & Navigation
Lecture 4 Adding Assests to the Scene
Lecture 5 Types of Lights
Lecture 6 Landscape Creation & Natural Lighting
Lecture 7 Materials & Landscape Tools
Section 2: Sourcing for 3D Assets
Lecture 8 Megascans
Lecture 9 Foliage
Lecture 10 The Epic Marketplace
Lecture 11 Migrating Assets between Projects
Lecture 12 Mixamo: Downloading Characters & Animations
Section 3: Project Creation
Lecture 13 Building the Scene
Lecture 14 Adding Trees & Fire
Lecture 15 Post Processing Volume
Lecture 16 Adding a Camera to the Sequencer
Lecture 17 Adding Animations to the Sequencer
Lecture 18 Adding Physics Simulation to the Character
Lecture 19 Adding Particle Simulation
Lecture 20 Animating the Camera
Section 4: Exporting and Editing of the Animation
Lecture 21 Rendering & Exporting Frames
Lecture 22 Taking Screenshots
Lecture 23 Merging Frames in DaVinci Resolve
Lecture 24 Colour Correction in DaVinci Resolve
Lecture 25 Adding Camera Shake in DaVinci Resolve
Lecture 26 Adding Sound in DaVinci Resolve
Lecture 27 Final Render & Conclusion
Beginner 3d artists interested in creating 3d animations
Download links:
Password/解压密码:www.tbtos.com