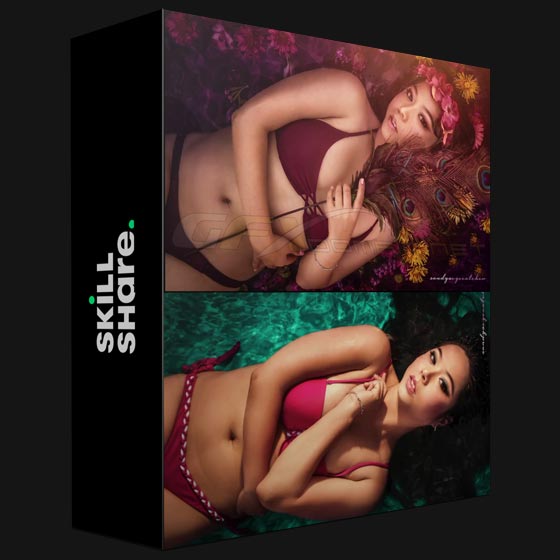 Are you looking for fresh inspiration in your beauty and fashion photography?
Do you want to take advantage of the nice weather and bring your photography sessions outdoors?
Do you suffer from a slow summer season and need new ways to attract more clients?
Do you want to create jaw dropping mini sessions to boost your income?
Do you want to stand out from the crowd, wow your clients and attract models with eye-catching photography?
Then this course is perfect for you. Celebrate the summer with a magazine style 'pool shoot' that is playful with a gorgeous feminine yet empowering look! Your clients will feel like top models in the Caribbean – and what's more, creative portrait photography doesn't have to break the bank. There are no borders to conceptual photography, as we'll show you with inexpensive props and a small outdoor area.
You'll be amazed at what you can do with just a kiddie pool, bath drops, flowers, milk and other creative props!
You will learn:
Preparing the shoot – location, practical considerations.
Posing tips when the model is lying in the kiddie pool.
Camera settings, using a light meter, flash and natural lighting options.
Fly on the wall view of 3 photoshoot sets – water, colors and flowers, milk 'hot pink'.
3+ hours of Adobe Camera Raw and Photoshop videos to transform the images into stunning works of art!
Do you love working with flash? Natural light? Both?
Sandy and Matt will cover flash techniques and camera settings, as well as the best ways to take advantage of natural light to get the most variety from your shoot.
In Part 1, Sandy and Matt take you through the preparation and set up of the shoot, including what props to buy, practical tips on handling posing your model in water, and camera and lighting settings. Then you'll get a fly on the wall view of the shoot that implements all the ideas so you can do exactly the same.
In Part 2, Sandy walks through a complete, comprehensive Adobe Camera Raw and Photoshop set of tutorials (over 3 hours) on how to transform the images into amazing works of fine art. At the end, your images will look like they belong in a high fashion magazine! Your clients will receive a truly unique style of photography that sets you apart from your competitors.
Whether you are a beginner DSLR photographer or a seasoned pro, you will find a host of tips and tricks that will help you create fantastic images.
This highly practical course shows you a new way of beauty photography – how to create a 'dreamy water' pool-style that will be an outstanding addition to your portfolio. If you want to achieve higher sales, and help to think outside the box for your next photoshoot, then this course is for you!
https://www.anonymz.com/?https://www.skillshare.com/classes/Creative-Portrait-Photography-Series-Milk-Bath-Fashion-Part-1/6980642
Download Links:-
Password/解压密码:www.tbtos.com
Your article helped me a lot, is there any more related content? Thanks!

Thank you very much for sharing. Your article was very helpful for me to build a paper on gate.io. After reading your article, I think the idea is very good and the creative techniques are also very innovative. However, I have some different opinions, and I will continue to follow your reply.

order lasix without prescription

lasix generic

order albuterol 4mg for sale

purchase digoxin online cheap

lanoxin cost

buy generic molnunat 200mg