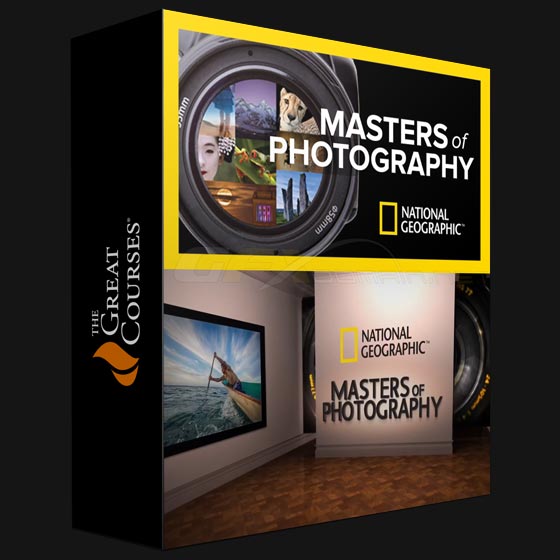 Photography is an art. We may all take pictures—now more than ever—but to rise above the level of a snapshot, you need to go beyond shooting and hoping for the best. You need to actually understand what you're doing and anticipate the results.
The best way to learn any art form, including the art of photography, is by watching a master artist at work. By observing the creative process of a photographer who has truly mastered the trade, you can gain rich insight into how to approach your own images, boost your confidence as you work, and improve your photographs by learning skills that are rarely shared or taught in an ordinary classroom.
Now, in National Geographic Masters of Photography—24 lectures taught by 12 top National Geographic photographers—you gain unparalleled access to some of the world's greatest photographers. Through our partnership with National Geographic, the gold standard of photography for more than a century, we are able to collaborate with some of the organization's most talented photographers. As a result, we have brought together a dozen world-class experts for this one-of-a-kind instructional series that will forever change the way you approach photography.
National Geographic Masters of Photography goes inside the creative process of the industry's most sought-after photographers as they reveal their working methods, from the planning stages of an assignment through the painstaking execution. Across 24 fascinating lessons, each professional uses his or her vast body of work documenting exotic locales around the world, as well as riveting stories of life in the field, to illustrate points and share invaluable expertise. As you explore their craft in units on Adventure, Wildlife, Landscape and Nature, People, Color and Light, and Storytelling, your guides take you far beyond Photography 101 territory into ground you'd never cover elsewhere—short of landing an apprenticeship with a photographer of this caliber. These lessons also touch on fundamental concepts of lighting, composition, and using your camera, but they're truly designed to help you learn to see as top professionals do, and to ultimately discover your own personal vision.
Each unit is presented by a pair of photographers, exposing you to diverse perspectives on how to achieve captivating results. In the end, you'll come to see that having a good camera and knowing how to use it is important, but it's only a tool. Taking great photographs requires technical skill, plus preparation. As Michael Yamashita says, "the difference between a good photograph and a great photograph is often a matter of inches or milliseconds."
After completing this course, you will possess a refined set of tools and insights you can use to drastically improve your photography, whether you're using an expensive camera or the camera on your phone.
http://anonymz.com/?http://www.thegreatcourses.com/courses/national-geographic-masters-of-photography

Download Links:-
Password/解压密码:www.tbtos.com