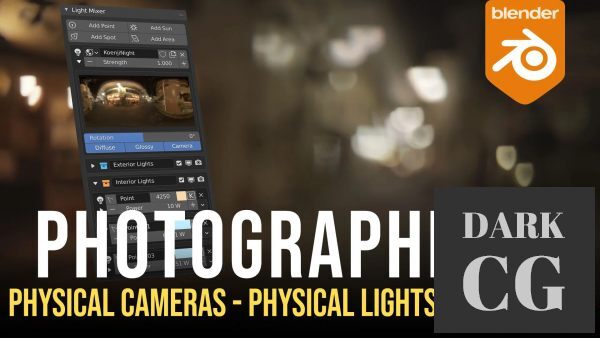 Gumroad – Photographer 4.8.1 + Lightpack – Blender Add-on
This add-on for Blender 2.8x, 2.9x and 3.x adds new Physical Camera, Physical Light settings and Mixer interfaces for Lights, Emissive materials and Worlds for EEVEE, Cycles and LuxCore 2.5.
Photographer 4 will keep receiving free updates during 2022.
The earlier you buy the add-on, the cheapest it will be.
Photographer 4 exclusive features:
Light Mixer, a user-friendly interface to manage the lights in your scene.
World Mixer, a user-friendly interface to manage your HDRI and World materials per-camera.
Emissive Mixer, a user-friendly interface to manage the emissive materials in your scene.
Optical Vignetting and Bokeh textures support for cameras.
A revamped UI, for a more streamlined workflow.
Lots of small quality-of-life improvements.
Includes previous version features:
Exposure using real camera settings (ISO, Aperture, Shutter Speed) or more artist-friendly controls (EV value)
Physical Light units (Lumen, Candela, Lux) with Color temperature and Presets
Viewport Auto Exposure
Lens Shift and Automatic Shift to fix vertical perspective for Archviz renders
Dolly Zoom
Motion Blur control using Shutter Speed or Shutter Angle
White Balancing with viewport picker
Resolution per camera with artist-friendly presets
View Layers per camera
Autofocus (Single, Continuous or Tracking)
Focus Plane and Depth of Field limits
Camera list and Master Camera that can switch between cameras
Easy-to-use Camera Targets
Render Queue to render one or all cameras at once, incrementally saving your images as well as storing them in new render slots
Version 4.8.1 is now compatible with AgX color management, so you can experiment with this new and promising OCIO config!
http://chafouin.gumroad.com/l/HPrCY
working on Blender 3.3.1
Download links:
Password/解压密码:www.tbtos.com