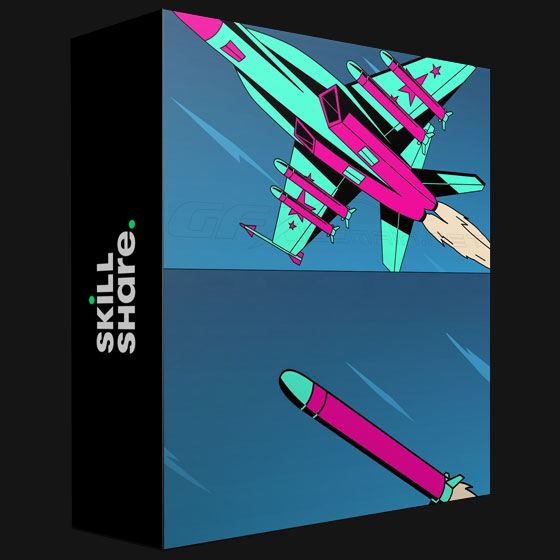 Have you ever wanted to animate camera moves like the way they do in your favorite animated tv show, but you don't know where to start?
In this class you'll learn the techniques needed to start animating your very own anime style camera moves in no time!
Join traditional 2D animator Johannes Fast in this course on how to animate action style camera moves and follow along as he teaches the techniques he uses to bring his own animations to life.
This class is structured in a way so that each lesson will build on the previous one in a step by step manner, making sure you've mastered each animation technique before moving on to progressively more complex and exciting camera movements.
In this class you'll learn:
Drawing exercises for camera moves – Learn what exercise and what drawing techniques to work on to improve the quality of your animations.
Parallax – Quickly learn the secrets of the parallax effect, the phenomenon that animators replicate in their work to convey camera moves true to life.
Perspective – Get to know how objects change as they are viewed from different angles.
How to plan a camera move – Follow along as Johannes breaks down the complex subject of camera moves into easy to learn parts.
The theory of Dynamic Camera moves – You will learn what differentiates a stiff and rigid camera move and a dynamic one and how to apply it to your own animations.
How to Animate a simple tracking camera move – You'll learn how to animate a tracking camera move just by using 2 easy to master techniques.
How to Animate a dolly style camera move – Johannes will show you how to animate a camera traveling forward along a ground plane, a fundamental technique that can be expanded on to make any kind of camera move you can imagine.
How to Animate an anime style camera move – You'll learn how to animate an anime style camera move where the camera is tracking an object like an energy bolt as it's flying through the air.
How to Animate an action style camera move – In this final lesson you'll combine all the techniques from the previous lesson and learn how to animate a dynamic action style camera move where the camera is following an object as it twists and turns in "3D" space.
If you're in need of inspiration/references you can find more of Johannes's work on Instagram
And if you share your assignments on Instagram feel free to tag Johannes so he can see what you've made and share it with his followers!
Requirements:
Computer with frame by frame animation software.
Drawing tablet.
Suggested software: Adobe Animate, ToonBoom, Rough Animator, Clip Studio Paint, Photoshop, TVPaint
If you're new to animation or feel like you want to freshen up your skills before taking on this class, check out Johannes previous classes, like this one on the Basics of Animation.
https://www.anonymz.com/?https://www.skillshare.com/en/classes/How-to-Animate-Action-Camera-Moves-Frame-by-Frame/626976235
Download Links:-
Password/解压密码:www.tbtos.com
Your article gave me a lot of inspiration, I hope you can explain your point of view in more detail, because I have some doubts, thank you.