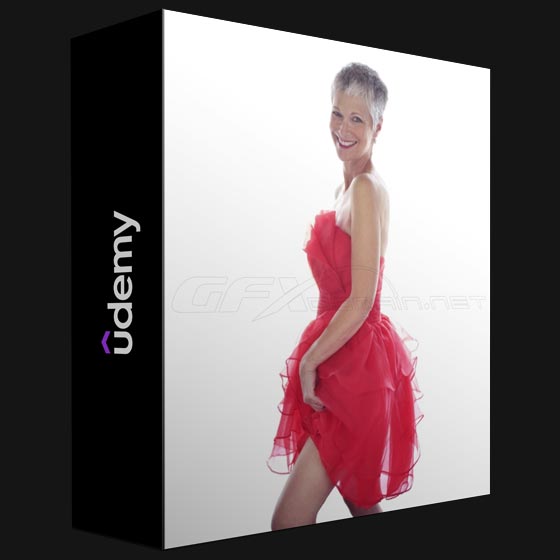 Learn to Light Portraits Confidently Using Studio Flash or Natural Available Light
What you'll learn
Create flat, even lighting that it is flattering for clients of any age using natural light or studio strobes
Feel confident setting up a simple one light set up using just one light (natural window light or studio strobe) and a reflector
Understand how to a light meter to get your exposures consistently correct whether you are using natural available light or studio strobes
Work out how to fix the lighting when you are seeing uneven / harsh light / unflattering shadows on faces
Requirements
Basic experience using a DSLR camera
Basic understanding of Aperture / Shutter Speed / ISO
You do not need to buy any lighting equipment before starting this course as I explain exactly what equipment I use and demonstrate how I use it
Description
A beginners lighting workshop to help photographers feel confident lighting flattering portraits indoors using natural daylight or simple studio flash
Lighting can make or break a portrait photograph, we know that! But what if…
You don't have access to enough or any natural window light?
You can't work out how to fix uneven / harsh light / icky weird shadows on their face?
​You can't work out how to create even, flattering, soft light you see others achieve?
​You're struggling to get your exposures consistently right?
​Studio lights look horribly complicated / expensive / SCARY!?
You feel stressed and flustered fiddling with switches and settings in front of people?
Don't worry I've been there too! And now I have a very simple method of lighting that I want to share with you!
For over 10 years I have mastered a VERY simple lighting set up in my studio whether that's artificial studio flash or natural light from the window. I use both confidently and effectively which means I can concentrate on connecting with and directing my clients to create beautiful engaging images they love… without wasting time fiddling with settings and staring at the back of my camera looking confused, perplexed and embarrassed!
I am passionate about my work and I love what I do.
What to Expect from this Course
I've taken the lessons I have learned in my own photography business over the years and distilled them into simple steps you can practise RIGHT NOW to get better at lighting portraits. Let me shorten the learning curve for you!
From guiding you on effective ways to use window light to showing you how to use a simple one- light studio flash set up, by the end of this mini course, you'll have a new found sense of confidence when you shoot portraits. No need to ever feel stuck or stressed about lighting portraits again! Which means at the start of a shoot you can set up your lighting quickly. So all you need to do after that is relax and enjoy experimenting with posing, connecting with your client and creating impactful images they love and have FUN! That's the point right?!
Training 1: Window Light
Have you ever got excited thinking "Hey! There's a big window, that will be perfect light!" So you've taken a photo of someone in that light but felt disappointed by the results and can't quite figure out what's not right or how to correct it?
In the Natural Light training we're going to work through how to create gorgeous, glowing flattering light from a window. And what to do if you're seeing unflattering shadows on your subject's face. I'll be demonstrating with my 58 year old client Bev. She is one of my real paying clients, not a model. I wanted to ensure that it is a much more realistic situation which I believe will be more helpful to you than using a young professional model with smooth skin.
Training 2: Studio Lighting
If you're afraid of studio lighting for any reason or tried it and gave up on it, let's work through this together and say goodbye to your fears. If there's not enough natural light then studio flash is your answer.
Inside this training, I am going back-to-basics explaining exactly what lighting gear I use, how I use a light meter, how I fire the studio flash and demonstrate how I use it with my client Bev. I create even, flattering light where Bev's skin looks smooth and glowing.
This will NOT involve complex lighting. Just simple one-light setups that you can try out for yourself and get great results. I like to keep things easy for myself… and for you!
Who this course is for:
This is a back-to-basics portrait lighting training to help you create better images of people.
It is designed for both beginner / amateur photographers and also more experienced photographers who mainly shoot using natural light and want to feel more confident lighting portraits indoors.
https://www.anonymz.com/?https://www.udemy.com/course/simple-lighting-setups-for-portrait-photography/
Download Links:-
Password/解压密码:www.tbtos.com