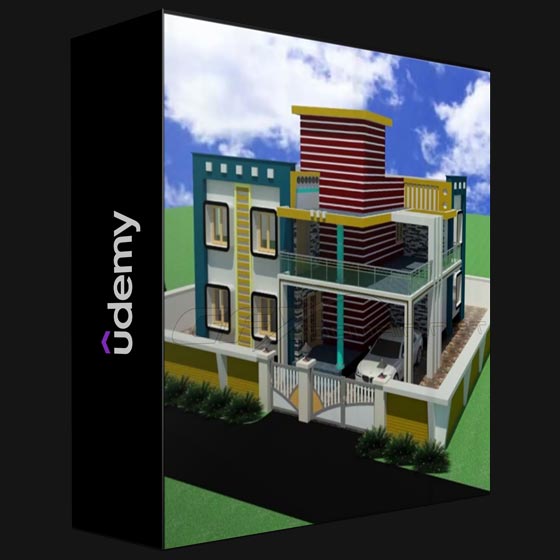 Basic + Advanced Level Project based Training in Revit Architecture
What you'll learn
To learn all basic toolbars and advanced level BIM environment & concept about Revit Architecture
To learn Complete modeling and detailing in Revit Architecture
To learn Schedule and Drawing Creation
To learn advanced level project in in Revit Architecture
To learn Conceptual building design
Requirements
Basic Knowledge of Engineering
Laptop / Computer (With Revit Software)
Description
Revit Architecture world No:1 Building Information Modeling (BIM) Software.
In this Software you can Create accurate 3D Model with all engineering data it can built any kind of Building Design
You will Learn Revit Architecture (Basic + Advanced Level Training). In this Course you will get master knowledge in Revit Architecture
You will learn to create and work with Grid and Level
You will learn to create any type of Architectural 3D model with Wall, Floor, Roof, Stair, Railing, etc.
You will learn to place Doors and windows etc.
You will learn to create Curtain wall with various places
You will learn to create Structural and Architectural column
You will learn to create Varity of roofing and practices
You will learn to create Ceiling design and its Lightings
You will learn to create Varity of railing and ramp
You will learn to create Conceptual building Design (Twist building and High rise building design)
You will learn to create material and paint
You will learn to work with phases
You will learn to create Topo surfaces and landscaping activities
You will learn to create rooms and its area calculation
You will learn to create Schedule and its application
You will learn to create keynote and keynote scheduling and its application
You will learn to create Filter and its uses
You will learn to create solar study
You will learn to Place camera
You will learn to create advanced level quick rendering methods
You will learn to create Walkthrough
You will learn to create 2D drawing and detailing inside Revit
You will learn to Export and Import documents with various insert options
You will learn to create accurate output files for Construction and Execution
You will learn to create step by step detailed lecture to create house project in end of this course
You will learn to create Exterior and Interior Design
After this course you will get knowledge to work Any Revit Architectural projects
Don't wait, Let's Start your good Steps your life
Best of Luck
Who this course is for:
Revit beginners
Revit advanced learners
Revit Modeler
Revit Designer
Architect
Civil Engineers
Architectural Engineers
Architectural Designers
Architectural Draftsman
Civil Draftsman
Mechanical Engineers
Design Engineers
Anyone interested in Architecture
Anyone interested in Civil
Anyone interested in Revit
Anyone interested in Revit Architecture
Anyone interested in BIM
Cad Operator
Cad Supervisor
Anyone interested in Autodesk
Anyone interested in 3D modeling
Anyone interested in Drafting
Anyone interested in Engineering Design
Anyone interested in Building Design
Anyone interested in Building Modeling
Anyone interested in Building House Design
Anyone interested in Villa Design
Anyone interested in High rise building
Anyone interested in Twist Building
Anyone interested in Interior Design
Anyone interested in Exterior Design
https://www.anonymz.com/?https://www.udemy.com/course/complete-revit-architecture-beginners-to-professionals/
Download Links:-
Password/解压密码:www.tbtos.com
411201 492568Hello, you used to write magnificent, but the last several posts have been kinda boringK I miss your tremendous writings. Past several posts are just a little bit out of track! come on! 630571