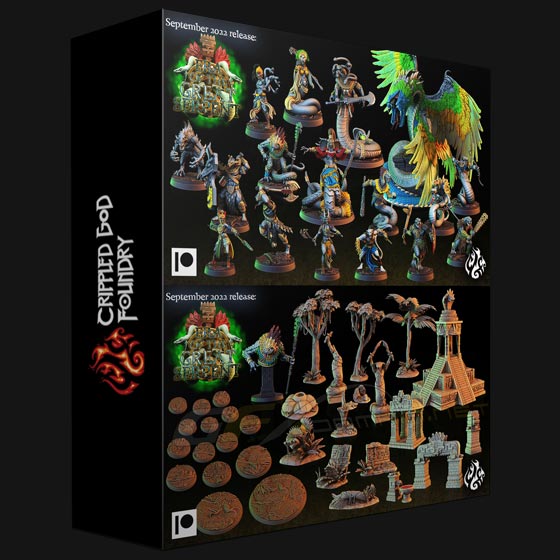 17 Highly Detailed Miniatures ~ All Presupported! ~
Mouth of the Serpent God, the King of the Ophidians.
Nightmare Speaker, a spellcaster of great power.
Ophidian High Priest, the religious ruler.
Ophidian Priests, 2 miniatures.
Ophidian Pit Lord, the master of transformations.
Ophidian Malisons, brutish warriors, 2 miniatures.
Ophidian Temple Guards, 2 miniatures.
Pureblood Warriors, 2 miniatures.
Broodguard, a monstrous Ophidian creation.
Serpent God, Avatar of the Ophidian deity.
Escaped Heroes:
– Yatzil, Eagle Warrior
– Ikal, Bull Warrior
– Rykhur, Panther Warrior
Scenic Bases for all the Miniatures!
Bust version of Ophidian Priest!
Battlemaps!
Paper Miniatures!
"Era of the Great Serpent" D&D 5e Miniatures Lore & Stat Block .pdf!
https://www.anonymz.com/?https://www.patreon.com/posts/september-reveal-70917750
Download Links:-
Password/解压密码:www.tbtos.com