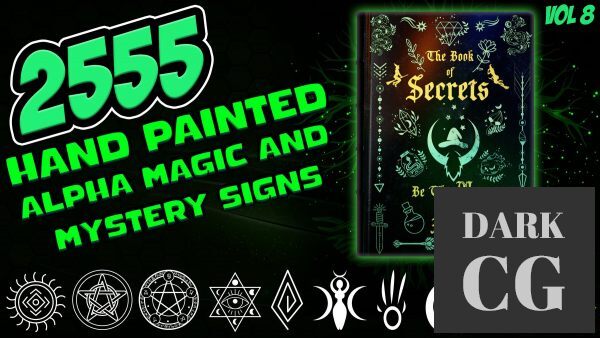 ArtStation – 2555 Hand Painted Alpha Magic, Mystery & Sacred Signs and Elements (MEGA Pack) – Vol 8.
This Mega package, is the largest, most unique, most complete and most diverse collection of practical and high-end quality 4k of Hand Painted Alpha Magic, Mystery and Sacred Signs and Elements that you can have.
Having this Mega collection to increase your library and bring these cool elements to your work.
Use these pack to quickly add creative details to objects such as weapons, armor, shields, clothing, equipment and more… Also interior structures, architecture and environments … and many other things that you know about it!
for your medieval or Modern projects (Stylized or Realistic!)
Can be used on any software that supported alphas and png files like zbrush, substance painter, substance designer, blender, 3dsMax, Maya, 3D Coat, Marmoset, Modo and etc… .
Magic, Mystery and Sacred of types: Magical – Esoteric – Witchcraft – Alchemy – Sigil – Mystic – Celestial – Rune -Spiritual – Occult – Classic (Ancient) – Modern – Ethnic – Geometric
This product (vol-8) includes:
2555 Hand Painted Alpha Magic, Mystery & Sacred Signs and Elements (50 alphas are free part) that contains:
~ 225 Alchemy Symbols (25 Free)
~ 200 Alphabets
(62 Daedric Alphabet (Skyrim) | 41 Dragon Alphabet (Skyrim) | 36 Draconic Alphabet | 28 Mage Alphabet | 34 Runic Alphabet (Vikings)
~ 150 Angelic
~ 100 Demonic
~ 758 Magic, Mystery and Sacred Signs (20 Free)
~ 708 Magic Elements
~ 105 Runes (5 Free)
~ 300 Spell Signs
(80 Air: Wind – Storm – Blizzard | 93 Fire: Flame – Incinerate | 75 Water: Frost – Ice | 52 Lighting: Spark – Thunderbolt / It can also be used as Earthquake Spell Sign)
~ 15 Seamless Patterns
50 Hand Painted Alpha Magic & Mystery Signs are free
Our Special Gift for You (to appreciate)
Details:
SVG (Vector Files)
PNG / 32bit
Resolution: 4K (4096*4096) High-End Quality
There are PDF catalogs for Preview
Each one is neatly arranged in folders with own names
Download links:
Password/解压密码:www.tbtos.com