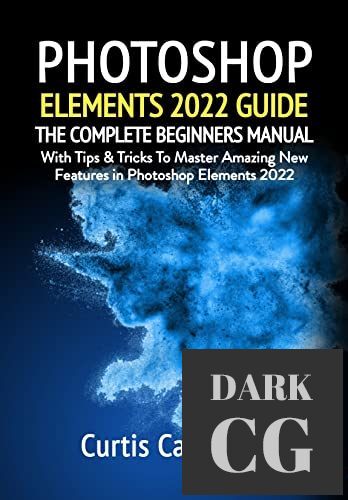 Photoshop Elements 2022 Guide – The Complete Beginners Manual with Tips & Tricks.
English | 2022 | ASIN: B09VTKTZ3F | 114 pages | ePUB,PDF | 4.19 MB
Photoshop Elements 2022 is a very simple editor and is the best solution for high-quality images. Photoshop Elements features include the ability to rotate and stretch images to remove red-eye, split toning, and vignettes; this book is all for amateur Photographers who want to go pro with this program. Photoshop Elements 2022 allows the addition of special effects to images such as emboss and starburst, as well as an easy way to apply effects. You can edit color with the help of levels, curves, and hue/saturation adjustments. There is a lot to explore with Photoshop Elements 2022. From the huge amount of effects and filters to the innovative features and the ability to use it in so many creative ways, this is the most advanced software available and one of the best ways to create some amazing images. And it is a relatively inexpensive alternative to Photoshop. This guidebook makes Photoshop Elements 2022 easy-to-use powerful for anyone who wants to do things their own way. Whether you want to edit a single photo, add special effects, or create professional-quality graphics, you can do it all through this book.Here are some things you would learn after reading this guide
What are Photoshop Elements and How Does it Work?
Adobe Photoshop Elements and Adobe Premiere Elements, What's the Difference?
Photoshop Elements 2022 Hands-On Features
How to Download Photoshop Elements 2022
A Look at the Home Screen
How to Use The Organizer to Sort Your Collections
Photoshop Elements 2022 Catalogs
Simple Editing Through the Quick Edit Mode
Step-by-Step Instructions Through the Guided Edit Mode
How to Use Panels and Panel Bin
Functions of panels
Using the Create and Share Menu
Create menu features
Ways you Can Import Media to your Organizer
Using Auto Curate
Backing Up Photos
How to Add Star Rating to your Photos
Using the context menu
What Are Keyword Tags
Using search
Personalizing tags
How to Use Instant Fix
Cropping Photos
Using Rulers and Guides
Accessing Image Properties
Metadata search
Utilizing Full-Screen View
Working with the Editor Workspace
Accessing the Editor Preferences
Increasing and Reducing Image Size and Resolution
Zooming and Panning Photos
The Best way to Open, Save, and Close Images
Utilizing the Expert Mode Tools
Using the Rotate and Flip Features
Process for Straightening Images
Using Version Sets
Using File Formats
How to Open Closed Eye
Using Special Effects in Text
How to Use Filters
How to Use the Marquee Tool
Accessing the Lasso Tool
How to Save Selections
What are Layers?
Getting Started with Photoshop Elements 2022 Layers
Step by Step Guide to Masking Layers
How to Merge Layers
Hands-on with Blending Mode
Picture Transformation
Using Smart Objects
Removing Blemishes from your Photos
How to make Perfect Portraits
Unwanted Objects Removal
How to Use Plugins
How to Print Images
Getting your Hands-on Color Spaces in Photoshop Elements 2022
Color Cast Removal
How to Achieve Black and White Images
Achieving the Duotone Effect
And many more!
Download links:
Password/解压密码:www.tbtos.com