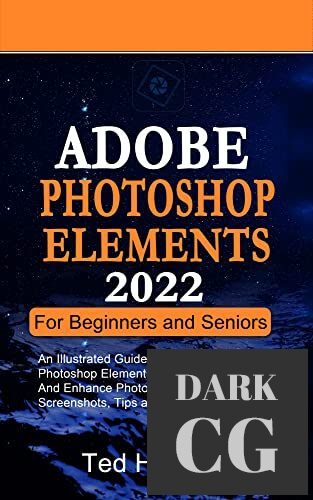 Adobe Photoshop Elements 2022 For Beginners And Seniors.
English | 2022 | ASIN: B0BBHB2JF4 | 176 pages | ePUB,PDF | 5.21 MB
An Illustrated Guide on How to Use Adobe Photoshop Elements to Professionally Edit, and Enhance Photographs: Including Screenshots, Tips
This Photoshop Elements 2022 Beginners Guidebook is an excellent resource for learning how to use Adobe Photoshop Elements 2022.
Elements is an outstanding image editing software for newbies and beginners to image processing! In this guide, you will learn the fundamentals of how to begin using Photoshop Elements even if you have no prior experience with the software.
The objective is that, at the end of this book, you become an effective user of the software; knowing how to navigate the software and use the available tools effectively.
Here, you will find all the relevant information that you require explained in clear terms, making it easy to understand.
Additionally, you will find visual aids, illustrations, and screenshots of step-by-step process required to perform various functions in the Photoshop Elements. All these coupled with the expert tips and tricks in this book will accelerate the learning process, and you will be able to use Adobe Element in no time.
In this guide, you'll learn
New Features in Adobe Photoshop Elements 2022
How to download Photoshop Elements 2022
Installing Photoshop Elements 2022
Installing from DVD
Getting Familiar with the Home Screen
Using the Organizer
Switching between views
Working with JPEG and Camera Raw Files
How to Import Photos from Files & Folders
How to Import Photos from Cameras or Card Readers
How to Import Photos from a Scanner
How to Import Photos in Bulk
Working with Catalogs
How to Create a New Catalog
Selecting Catalogs
How to Back-up a Catalog
How to Restore a Catalog
Opening a Camera Raw Image from the Editor and Working with the Editing environment
How to use the Edit Tools in Camera Raw
How to Use Red Eye Removal
Different Edit Modes
The Expert Edit Mode Environment
How to Use Quick Edit Mode
How to Use Guided Edit Mode
Working with Layers and the Layers Panel
Understanding the Layer Types
How to Create New Layers
How to Select Layers
How to Hide and Show Layers
How to Stack and Order Layers
How to Link Layers
How to Group Layers
How to Use Layer Styles
Saving Images
How to Use the Save for Web Dialog Box
How to Print Images
How to Share Your Creations
And a lot more!!
Download links:
Password/解压密码:www.tbtos.com