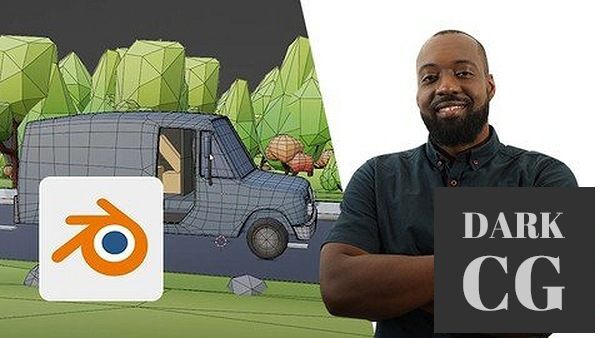 Download video course by Udemy – "Blender: Give Life To Your 3D Models With Blender 3D". Learn all the basics, modeling & lighting techniques.
What you'll learn
The basics of this powerful 3D design software
How to create eye-catching images and complex models with simple shapes
Skills and confidence you need to start adding amazing 3D artwork to your portfolio
Create 3D models
Understand the principles of modelling
Requirements
Laptop that is capable of Running Blender
Description
Instructor CredentialsMy name is Mike Louis, and I'll be your instructor for the Blender course. As a Creative Director and professional 3D Artist, I create design visuals to explain, teach complex ideas, solve problems and grab people's attention. For close to 20 years, I've helped businesses visually and technically communicate with, train, and market to their target audience.As the CEO and Creative Director of a creative design studio called 'PolygonsWild', my team and I have helped various brands such as Limu, AVT Simulation, Meggitt, CAE, and Florida Tech, to stand out from the competition with my team's impressive and defined designs.I've been drawing and illustrating ever since I first could hold a pencil; however, my journey as a professional 3D Designer and Multimedia Specialist began when I started my degree at Full Sail University. Initially, I primarily used Maya and Photoshop for 3D animation but then decided to try out Blender, which then became my favored 3D software.Since then I've worked as a 3D, Simulation, and Design consultant at CAE, Multimedia Specialist, and 3D Consultant at Deloitte, and now work as a Metaverse & NFT Creative Consultant & Strategist at GPC/NAPA Auto Parts & Racing.Course Description is for those who are either brand-new to Blender or have had some exposure to it but need to understand it better.This Blender course will cover all the basics, Modeling & Lighting techniques that especially focus on vehicle modeling skills such as making use of Moodboard, Blocking, Detailing, Scene Lighting, and basic and advanced animation workshops. I would recommend this course to beginners in Blender and in 3D in general. Also those who are experienced and may be looking for a refresher or interested in a more stylized approach to add to their portfolio.To StudentsOnce you finish this course, you'll be able to start designing your own 3D models with confidence, create complicated looking images using simple shapes, and add up amazing artworks in your portfolio.What I require from you before taking this course is to have an open mind and to be patient. One of the best ways to learn is to keep playing each video back and forth, until you fully understand the content and the skills.Don't forget to have fun along the way!
Download links:
Password/解压密码:www.tbtos.com