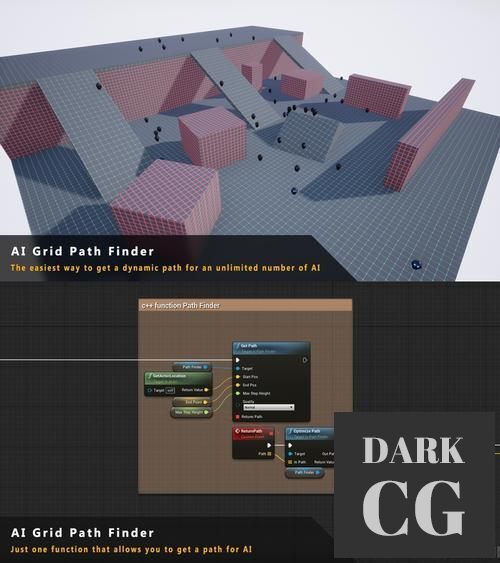 Unreal Engine – AI Grid Path Finder
AI Grid Path Finder – Dynamic Web Way
YouTube:
Documentation:
Example Project: , , ,
Discord:
The plugin includes:
1) A customized real-time path grid generator for the movement of bots or displaying a short path to the goal in hints, or for use for any other purposes.
2) Queue manager for getting the path.
3) A project with sample maps.
Advantages:
1) The simplest way to get the path, specifying the parameters of the height of the lifting step and the density of the grid.
2) A good solution for dynamically generated levels
3) Using any object and any form to block the path, according to the specified tag.
4) The use of any object and any form to indicate the necessary area of movement, according to the specified tag.
This greatly simplifies and speeds up the setting of levels.
5) Many times exceeds the performance of known pathfinding systems, practically without affecting FPS.
6) The ability to generate the grid you need in the engine and use it in builds without recalculation, or generate it in the game by the event.
7) The ability to adjust the speed and accuracy of finding the path.
8) A function with path optimization that approximates the number of poin
Asset Details:
Current Version: 4.27
More Info: https://www.unrealengine.com/marketplace/en-US/product/ai-grid-path-finder
Download links:
Password/解压密码:www.tbtos.com