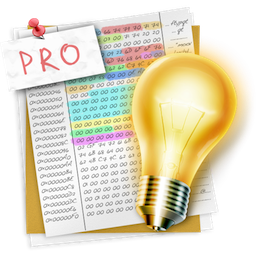 Synalyze It! Pro is a simple-to-use hex editor which will allow you to easily edit and analyze binary files of any size.
With Synalyze It! Pro you can
define a "grammar" that contains all the knowledge of a file format
decode files automatically using this grammar with the Universal Parsing Engine
make assumptions in unknown file formats and record them in a grammar
save tons of time by using free grammars for well-known file formats like ZIP, JPEG, PNG or OpenType
reveal the secrets of proprietary formats
learn reverse engineering of binary files
process the parsed file contents with Python or Lua scripts
analyze files with powerful features like histograms
Synalyze It! Pro is a real breakthrough in binary file analysis – a modeling tool for binary files.
Here are some key features of Synalyze It! Pro:
Hex Editor & Viewer (change, insert and delete quickly in files of unlimited size)
Definition of a "grammar" for binary files with Scripting support – conserve your knowledge!
Offers dozens of text encodings
Scripting editor (only in this Pro version)
Automatic installation of existing grammars
Export of analysis to XML or text (only in this Pro version)
Export grammars to GraphViz (only in this Pro version)
Data view for common variable types (only in this Pro version)
Multi selection of results (only in this Pro version)
Go to position item in toolbar (only in this Pro version)
Python and Lua scripting element (only in this Pro version)
Edit description of structures and elements (only in this Pro version)
Change Font in hex view (only in this Pro version)
Printing with correct pagination
Histogram view
Checksum / hash value panel (only in this Pro version)
Go to Position in file using expressions
Save selected bytes
Compare code pages
Incremental text search with encoding selection
Find text
Find numbers
Search for masks
See all strings in a file
What's New:
Version 1.26:
Runs on latest macOS (Apple Silicon and Intel)
Includes Python 3.10
Screenshots: