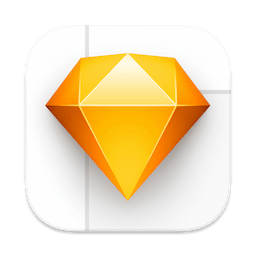 Sketch: graphic design for a digital world. Powerful tools and an elegant interface, in a single award-winning package. Because making beautiful things should be a joy, not a burden.
Sketch supports multiple fills, borders and shadows per layer; has powerful non-destructive boolean operations; smart pixel alignment; and makes exporting a breeze with automatic slicing and multiple resolution export.
Vector tools and basic shapes are the foundation; whether you are designing icons, websites, interfaces or anything else. Combine these into complex shapes with non-destructive boolean operations, leaving you free to edit them in the future, then apply advanced layer style options like multiple shadows, fills, gradients, noise, blending, background blurring, and more.
Sketch doesn't just do shapes, of course. Imported images can be rotated, scaled, cropped and masked. The best-in-class text tool lets you add beautiful typography to your designs, using native font rendering, so you can be sure that text always looks 100% accurate!
Brand new to Sketch 3, Symbols allow you to reuse entire groups of content in multiple places in your design. Think of interface elements such as buttons, headers and footers. Change them once, and they update everywhere in your document.
Built for the Mac, Sketch supports OS X's Versions and Auto Save, letting you focus on your work instead of hitting CMD+S. Keep your work safely in sync across multiple Mac computers with iCloud. And take Sketch full screen to maximise the size of your canvas.
All this power is deliciously baked into Sketch's single-window interface. Everything is there, tucked away until you need it. A simple interface with powerful tools.
What's New:
New in Sketch 92
Improvements and bug fixes
This update brings a whole host of small improvements to make you more productive in Sketch — including faster ways to tidy and swap layers using Smart Distribute.
What's improved
When you mouse over the Smart Distribute rearrange handle of a layer inside a tidy group, we now hide all the other visible handles, allowing you a clear view of your design.
When you select a layer which is part of a group with even spacing, you can now reorder it with Smart Distribute and adjust the spacing. Previously this was only possible if you selected the group itself first.
When you copy layers between Artboards, via the copy and paste commands or by dragging layers in the Layer List, we now preserve a layer's original position more accurately.
In a multi-layer selection or group with uneven spacing between layers, you can now enter horizontal and/or vertical spacing values immediately, without having to press the Tidy button first.
What's changed
We now show the HUD when your mouse hovers over the Smart Distribute spacing handle, not only after you click it, so you can immediately see what the spacing value is.
Our context menus now use Bring Forward / to Front and Send Backward / to Back, which matches the main menus. Previously, these were different.
When you rearrange layers within a Smart Distribute selection, the selections and placeholders that appear now use Sketch's tint color, rather than the default blue.
What's fixed
Fixes a regression in the setOverrideValue method of the plugins API.
Fixes a bug that caused updates to Workspace Libraries to be acknowledged more slowly by the Mac app.
We've fixed an issue with the Library API for Plugins where a refactor to improve compatibility with our iOS app had caused a regression.
Fixes a bug where a Symbol instance could accidentally have a blur applied to it, causing Sketch to crash.
Fixes a bug where switching from the Canvas to Components View and back again would clear a selected Component's details from the Inspector.
Fixes a bug where Artboards that had a background color and the "Include in export" option unchecked would display incorrectly on the Canvas in the web app.
Fixes a bug that stopped layers that moved from one Artboard to another via alignment actions from appearing on their new Artboard.
Fixes a bug where using Paste Here or Paste Over would not place the pasted layer in front of the selected layers.
Fixes a bug that stopped you from selecting a layer with no fill by clicking on the outer part of its border.
Fixes a bug that stopped an Overlay's preview from updating correctly when you duplicated the trigger layer or Hotspot and changed its target.
Fixes a bug that caused Hotspots within a Symbol instance to become smaller than their original size.
Fixes a bug that caused Overlay previews to resize unexpectedly while zooming on the Canvas.
Fixes a bug that caused an image with a non-normal blend mode to cause shadows and alpha masks to have the wrong opacity on the Canvas.
Screenshots: