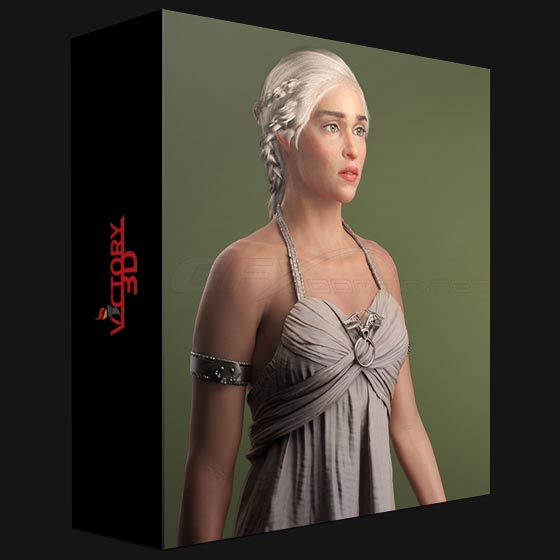 Realistic Character Sculpting & Modeling using Zbrush, Mari, Marvelous Designer, Maya & Photoshop
What you'll learn
Sculpt a female character from head to toe
Sculpt believable clothing
Full body UDIM workflow
Marvelous to Maya Retopology and UV creation
Industry techniques for hand-painting detailed textures
Variety of retopology methods for movie characters
Realistic skin shader, metal & cloth materials
Creating convincing CGI eyes
Making realistic hair with Xgen
High quality lighting and rendering using Arnold
Requirements
Before starting this course, you should have a basic understanding of Zbrush, Maya, and Photoshop. No knowledge of Wrap, Marvelous Designer and Mari is needed as I will teach you the basics of these programs.
Description
Corazon Bryant always had an artistic bone in her body. When she was only 2 years old, she would make detailed drawings on her mother's wall. Her mother loved the drawings so much, she decided to keep them. With the encouragement of her mother, she continued drawing and she only got better as time went by. When Corazon was in middle and high school, she earned money making portraits for her classmates and even for her teachers. She pursued a college degree in Media Arts & Animation and later worked for architectural and entertainment companies such as Camm Productions, ID DI Design, and PDT International. She also had an opportunity to do some freelance work for Mega Pickle Entertainment. While working as a 3D artist, she had a chance to teach 3D animation classes in an A+ school. This is when she found her true love – which is not only to talk about 3D endlessly but to also inspire greatness in young upcoming artists. Corazon is currently working on a new project called Victory 3D with fellow industry-experienced artists to provide an affordable and effective learning system that will make it easier for students to get a job in the 3D industry.
Course Info
Have you been looking for a course that shows you how to make a realistic full body character, sculpt likeness, retopologize, unwrap, texture, and render all in one place? Then look no further. This course is for you. In this course, I will take you through the process of creating a beautiful female character and make it production-ready for films and animations.
The main topics we will be covering are:
-Sculpting a female character from head to toe
-Sculpting believable clothing
-Variety of retopology methods for movie characters
-Full body UDIM workflow
-Marvelous to Maya Retopology and UV creation
-Industry techniques for painting detailed textures
-Realistic skin shader, metal & cloth materials
-Creating realistic hair in Xgen
-High quality lighting and rendering using Arnold
Before starting this course, you should have a basic understanding of Zbrush, Maya, and Photoshop. No knowledge of Wrap, Marvelous Designer and Mari is needed as I will teach you the basics of these programs.
In this comprehensive course, we will begin by working on our female face and body using Zbrush. I will go over the major forms that you need to know to be able to produce a realistic female character. We will create details such as skin pores and tiny wrinkles to bring life to our character. We will learn about different ways of retopologizing our character, using automatic retopology and manual retopology using Wrap and Maya. We will generate our UV map for our character using the UDIM workflow. I will go over what UDIMs are, and why they are important when it comes to creating high resolution textures. You will learn how to simulate clothing using Marvelous Designer. We will then take our clothes in Maya to retopologize them to create a clean mesh, and then back into Zbrush to create major folds, minor folds, and memory folds. We will use Mari to hand paint our skin from scratch. I will show you exactly how to make different types of maps such as color map, specular map, and sss map step by step. We will create real world shaders such as silk, metal, and skin and we will go through the process of learning how to connect our maps properly. Then we move on to creating our hair using Zbrush and Maya. We will create our main hair using Fibermesh, then we go inside Maya to make Nhair for our braids that we will then use for our Xgen hair. We will create realistic eyebrows, eyelashes and peachfuzz all using one of the most powerful tools in Maya called Xgen. Last, I will show you how to create a nice clean render using Arnold and do some postwork in Photoshop to further enhance our image.
By the end of this course, you will be able to create your own amazing female character that is fully ready for production.
If you are ready to challenge yourself and get out of your comfort zone to be a great artist, then it's time for you to sign up for this course. There are no limitations on what you can be, have or do, as you are the master of your artistic journey. Make today the day that you take action, come and join this course at Victory3D.
Who this course is for:
Anyone who wants to be a 3D character rockstar ?
https://www.anonymz.com/?https://victory3d.com/p/female-character-film-pipeline
Download Links:-
Password/解压密码:www.tbtos.com