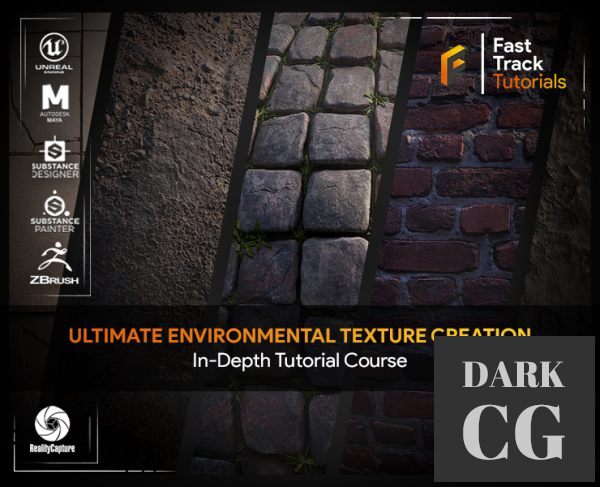 FastTrack Tutorials – Ultimate Environmental Texture Creation Course (ENG/RUS).
Learn every technique you need to create tileable materials for both games and film all in one course!
In this course, you will learn how to create everything from procedural materials to sculpted materials to photogrammetry materials.
SUBSTANCE DESIGNER, ZBRUSH, REALITY CAPTURE
In this course, we will go over how to create both beginner and advanced procedural materials using Substance Designer.
We will go over how to sculpt materials using Zbrush and Substance Designer, And we will go over how to scan photogrammetry materials and convert them into 3d using Reality Capture.
14.5 HOURS!
This course contains over 14.5 hours of content. all the videos are divided up – per material and correctly named. We will start by creating a basic tiles material using Substance Designer, this is a perfect material for beginners. Once that is done we will move on to creating an advanced tarmac material also using 100% substance designer. We will then go over how to create a material that using a combination of sculpting in Zbrush and Texturing in Substance Designer. Finally, I will show you how to capture materials using photogrammetry and convert them into a perfect tileable 2d material. All the baking and final renders will be done using Marmoset Toolbag 4
SKILL LEVEL
This course includes content for every skill level, From beginner to advanced. I do recommend that you know the bare bones of the programs we use (meaning knowing what the program is and how to navigate) but beyond that point, you should be able to follow along with every material.
TOOLS USED
Substance Designer
Substance Painter
Zbrush
Reality Capture
Marmoset Toolbag 4
———————————————-
Описание:
В этом курсе мы рассмотрим, как создавать процедурные материалы как для начинающих, так и для продвинутых пользователей с помощью Substance Designer. Мы рассмотрим, как лепить материалы с помощью Zbrush и Substance Designer, и мы рассмотрим, как сканировать фотограмметрические материалы и преобразовывать их в 3D с помощью Reality Capture.
Мы начнем с создания основного материала плитки с помощью Substance Designer, это идеальный материал для новичков. Как только это будет сделано, мы перейдем к созданию продвинутого материала асфальта, также используя 100% Substance Designer. Затем мы рассмотрим, как создать материал, используя комбинацию скульптинга в Zbrush и текстурирования в Substance Designer. Наконец, я покажу вам, как захватывать материалы с помощью фотограмметрии и преобразовывать их в идеальный мозаичный 2-мерный материал. Все запекание и окончательная визуализация будут выполнены с использованием Marmoset Toolbag 4.
Эмиэль Слегерс – старший художник по окружению, в настоящее время работающий в игровой индустрии AAA. Он работал над такими играми, как The Division 2 + DLC в Ubisoft, Forza Horizon 3 в Playground Games, а также в качестве фрилансера в нескольких проектах в качестве художника по окружению и художника по материалам.
Продолжительность: 14:13:49
Язык озвучки: Английский, Русский (отдельным файлом)
Download links:
Password/解压密码:www.tbtos.com