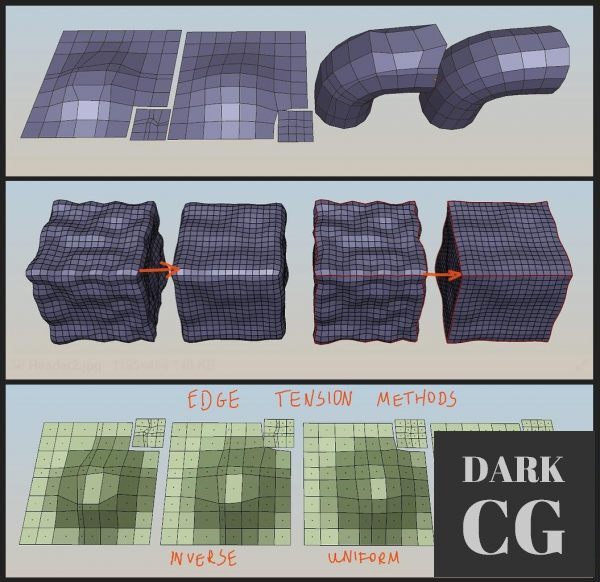 Volume Preserving Smoothing takes also into account sharp edges – they will be treated as rails for verts to slide on. This can help to maintain main shapes of smoothed object.
To access the smoothing operator (works on whole mesh or selection): open mesh context menu with W key in mesh edit mode, then select Mesh Smoothing visible at the very bottom, and pick mode:
Inflate smoothing – good for round surfaces
Laplacian HC smoothing – fast but sometimes give artifacts
Volume smoothing – slower but best quality
To use smooth brush: open left tools sidebar (T – key in 3d view), enable 'Volume smooth tool' icon.
Features:
smooth mesh while maintaining main object shape (operator and brush)
border mesh vertices will slide along border edges, this prevents shrinking of mesh outline
smooth brush support pulling/sliding of geometry along surface of mesh
X axis symmetry is supported
works with shape-keys
you have ability to define sliding rail edges (edges marked as sharp) – they constrain sliding of geometry
three edge tension methods (Uniform, Proportional to edge length, Inverse to edge length)
optimized with NUMPY
To make edge into rail edge – just mark edge loop as sharp. Now verts belonging to this edge, will move only along edge.
https://bartoszstyperek.gumroad.com/l/vol_smooth
Download links:
Password/解压密码:www.tbtos.com