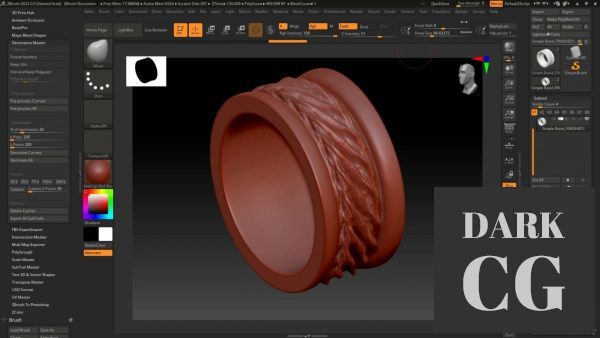 Learn the basics of jewellery designing and make you first ring
What you'll learn
Project-based course; Start making jewellery from the first day of the course.
Learning jewellery production standards and procedures from the industry expert
Learn how to make a ring in ZBrush and Modo
How to prepare a 3D model for 3D printing and casting
Requirements
No CAD or jewellery experience needed.
Basic knowledge of computer
Laptop or PC capable of Running Foundry Modo and Zbrush
Modo and Zbrush subscription or perpetual license or 1-month trial version
Description
In this course, you will learn the basics of how to design jewellery by using 3D modelling tools and learn how to bring your designs to a real-life by 3D printing them.
You learn about the common jewellery manufacturing processes and principles of designing and making jewellery by using cutting-edge tools and methods.
This is a project-based course and includes
· Theory And Technical Tips· Learning different Stone setting techniques
· Basics of 3D Modelling in Modo and ZBrush
· 3D printing processes and preparing your model for 3D Printing
· Manufacturing Processes, how to add casting feeder sprue to the model before 3D printing
Doesn't matter if you have no experience related to jewellery or are an experienced jewellery CAD designer. Both can benefit from the tips and techniques shared in this course.
Foundry Modo and Pixologic Zbrush are used as the main 3D modelling software packages, but you can implement most of the course content into your preferred 3D modelling software.
Main features of the course
1. Easier and fastest ways of 3d modelling organic and complex jewellery designs
2. Learning jewellery production standards and procedures from the industry expert
3. Project-based course; Start making jewellery from the first day of the course.
About the Instructor
Hamed Arab is a multi-award-winning jewellery designer and book author (CAD and 3D printing for Jewellery) with extensive knowledge of jewellery CAD designing and jewellery manufacturing processes. He studied jewellery and silversmithing at the School of Jewellery at Birmingham City University and has experience working with different jewellery companies in Iran and UK.
Since 2016, Hamed has trained more than 3000 students through his in-person and online courses in two different languages including Persian and English.
Hamed is working for the biggest fine jewellery manufacturer in the UK and has the responsibility to train jewellery CAD designers. Also, he manages his jewellery brand inspired by Persia and based in the UK.
Who this course is for
Complete beginners who are willing to be a jewellery CAD designer
Jewellery CAD designers, independent jewellery designers and CAD freelancers who want to expand their knowledge and skillset and be able to create different types of jewellery especially designs with organic and complex forms
3D modellers who want to learn jewellery techniques and standards that are needed for jewellery Designing with computer and 3D printing
Artist, Product designers, Architectures and engineers and anyone who would like to learn how to design and make jewellery by using cutting-edge technologies and tools
Download links:
Password/解压密码:www.tbtos.com