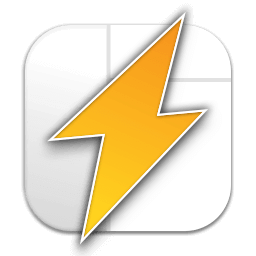 innovative::bytes start is an unique launcher for macOS that allows you to open applications, documents, URLs or folders quickly and easily. Create tidiness in your Dock and start items with the smart launcher app start instead.
start supports you and your workflow with a well planned organizational system for your items and a quick access to what you need.
It's incredibly easy to use: start automatically collects all applications available with Spotlight. Further You also can add files and folders manually according to your wishes.
Start your Applications with a simple mouse click or even faster and more convenient: with a hotkey! Also use tags, colors and notes to keep track of your Applications. Enjoy the simple operation and the comfortable features of start!
Features
TAGS
Tag it and love it! Use tags to create collections for your applications, frequently used folders, scripts or any other file. It has never been so easy to organize and sort items on macOS. Save a lot of time – searching was yesterday!
COMMENTS
Comments and notes! Add comments and small notes to your items to describe them in more detail. The comments will remind you what the items can do for you. Small notes with big effect – so you always keep track!
COLORS
Highlight your items as you like! With just a few clicks you can highlight your items with colors and find them even faster. Choose colors for more clarity and organization – effective and visually appealing!
HOTKEYS
Start with a simple keystroke! Assign a key combination to your individual items and open them immediately from anywhere with a customizable keyboard shortcut. Your workflow is no longer disturbed – you'll love the hotkeys!
Requirements 
start was developed for macOS 10.13 (and newer) and uses Spotlight internally to search for applications. For start to work, Spotlight must be enabled and also capture applications (this is the normal setting of macOS)
What's New:
Version 5.8
New features
More colors: Self-defined colors can now be used in addition to the predefined colors for tags and entries.
More tag icons: the selection of tag icons has been expanded to 143 icons.
More search-results: You can now optionally display tags when searching in the main window. In the settings you can define if the selection of a tag should show the entries of the tag or if all entries of the tag should be launched.
Bug fixes and other adjustments
When the main window of Start is displayed as a separate window in the center of the screen, it could happen that the window was displayed incorrectly scaled on a system with multiple monitors.
Start will ignore the Timemachine Volumes for updates on new Volumes.
The sorting of entries incorrectly distinguished between upper and lower case of a name.
Screenshots: