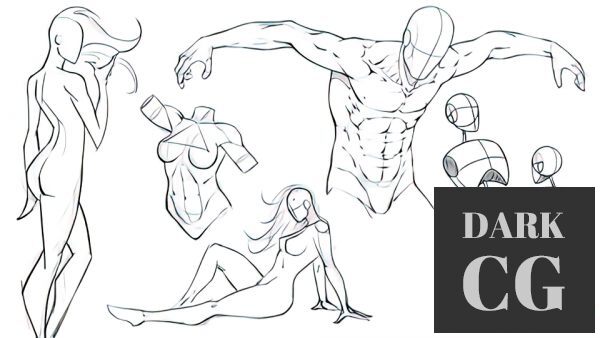 An in depth course on Figure Drawing from Beginner to Advanced
What you'll learn
You will learn techniques that will improve your figure drawing skills.
Learn how to use gesture to improve your figure drawings.
Learn the anatomy of the figure.
Learn the skeleton and the bony landmarks to aid in your drawing process.
Learn to draw expressive poses.
Learn to create depth with light and shadow.
Requirements
Pencil and Paper or a Digital Device and Art Program.
Description
Welcome to my course, "Figure Drawing – The Body in Action!"My name is Robert A. Marzullo and I have been an online instructor for 6 years now and I love to help artist improve their skills. I am also the author of the book, "Learn to Draw Action Heroes."It is my goal to help you learn figure drawing in a way that has a lasting effect. You won't just draw along with me and try to remember by observation you will learn why the body moves and reacts the way that it does.You will learn about gesture and rhythms of the body, stereometric drawing, balance, body language, the bony landmarks, anatomy, foreshortening, and light and shadow.In this course we will do specific studies on the problems areas that hold artists back from drawing the human figure well!So that you know what to expect right now, here is a list of the current content ready to view -Section 1 – Stereometric Drawing of the FigureL1 – Drawing with Primitive FormsL2 – Drawing the 3 Main MassesL3 – Drawing Arms with Basic FormsL4 – Drawing the Legs with Basic FormsL5 – Drawing the Legs with Basic Forms – Part 2L6 – Drawing the Full Figure with Primitive FormsSection 2 – Drawing the 3 Main Masses of the Body OrganicallyL7 – The Basic Head FormL8 – The Basic Upper Torso FormL9 – The Basic Pelvis FormL10 – Attaching the Forms to the SpineL11 – Attaching the Forms to the Spine – Part 2L12 – Turning the Forms of the BodyL13 – Various Poses of the 3 MassesSection 3 – Gesture Drawing and The Energy of the BodyL14 – Benefits of Gesture DrawingL15 – Additional Gesture Drawing ExamplesL16 – Rhythms of the Arms and LegsL17 – Using the Bean Shape to Draw the TorsoL18 – Using the Bean Shape – Rendered ExampleSection 4 – Proportions of the BodyL19 – Basic Male ProportionsL20 – Basic Male Proportions – Part 2L21 – Basic Female ProportionsL22 – Basic Female Proportions – Part 2Section 5 – Specific Areas of Study and Bony LandmarksL23 – Spine of Scapula – Line ArtL24 – Spine of Scapula – RefinementL25 – Spine of Scapula – Value StudyL26 – Male Torso – Clavicle and Sternum StudyL27 – Male Torso – Clavicle and Sternum RefinementL28 – Male Torso – Clavicle and Sternum – Value StudySection 6 – Drawing the Figure in ActionL29 – Action Pose – Jumping – SketchL30 – Action Pose – Jumping – RefinementL31 – Action Pose – Female Dancing – GestureL32 – Action Pose – Female Dancing – Primitive FormsYou also get all the art files to study along with as a PDF. They are attached to the first lesson of Section 2!I am here to help you with your progress. Share your figure drawings in the Q+A Section of this course. I will take a look at them and help you in any way that I can.Please take the time to leave your honest review of this course. It helps me to improve the content and know what you like and what you do not. It also helps other students know if they should take this course. I will create regular updates on this course to make it a better experience for everyone!Thank you for considering my course on Figure Drawing and good luck with your studies!Sincerely,Robert A. MarzulloRam Studios Comics
Download links:
Password/解压密码:www.tbtos.com