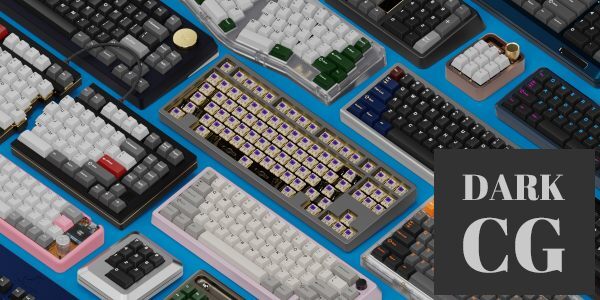 Keyboard Render Kit 2 is a Blender kit designed to streamline the process of visualizing your mechanical keyboard and keycap designs. It starts with a focused UI layout arranged to present useful tools and content to help you on your way.
KRK2 blurs the line between digital content and Blender addon with the introduction of a new sidepanel that acts as an object data manager and colour palette control. Many of the limitations of KRK1 have been resolved with a new system that is independent from drivers and shapekeys.
A default extended kit layout is still included as well as even more excellent keyboard models to see your colorways in action. A deck of common layouts are there to help quickly populate your own keyboard designs.
Material groups simplify the colorway design process by exposing the most relevant settings first and foremost, and now support the new colour palette workflow. Custom legend, sublegend and novelty support is still built-in, however some profiles now include support for front printed legends.
Accessories such as the USB cable and deskmat have been rebuilt to offer more freedom and functionality through the KRK2 UI.
Download links:
Password/解压密码:www.tbtos.com