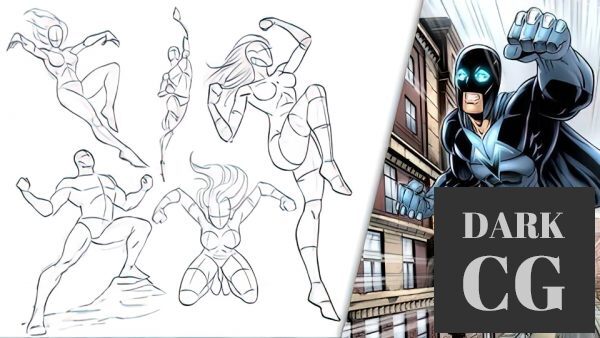 A Complete Step by Step Guide to Drawing Comic Book Heroes!
What you'll learn
By the end of this course you will know how to create a variety of comic book superhero concepts from your imagination.
You will know how to create dynamic poses for your character designs.
You will have a much better understanding of how to draw comic book characters with perspective.
You will be able to use foreshortening in your drawings with more confidence.
Requirements
You should have a basic understanding of how to draw with primitive shapes.
You should have a passion for drawing character concepts.
Description
In this course you will learn how to draw dynamic comic book superheroes step by step. You will work along with me as we break down all the major components that comprise the superhero comic characters that we know and love. You will learn about proportions, anatomy, suit design, foreshortening, rendering, perspective, and how to draw dynamic poses from your imagination. These action poses are essential to creating powerful characters that can tell an amazing story! If you want to improve your ability to draw a variety of characters effectively, then this course is for you. The techniques that I will teach you here can apply to all sorts of art styles. Everything from game art, comics, concept art, and even figure drawing. These methods will teach you how to draw imaginative bodies with confidence.You will also learn to pencil, ink, and color a fully detailed comic book scene from start to finish! This will allow you to put all of this knowledge to goo use. By implementing these techniques into a project file you will commit them to memory and you are welcome to share your project with our comic art community!I have also added 6 Lessons on Drawing Various Hand Poses – Step by Step! ( Based upon a student request. )I have also added 7 Lessons on Drawing Various Proportions and Body Types! ( 10-12-2019 ) Updated – a new section on Drawing Fight Poses! 11 Videos Added ( 3-20-2021 )I am very confident you will find this course to be a valuable asset in your educational collection but if you find anything that would make this a better experience for you and the other students, please let me know. I will be happy to improve the course content as well as add new lessons when needed.You also get all the art files to work along with throughout this course. Please share your artwork in the Q&A Section and I will give you any feedback that I can.I thank you for viewing my course and good luck with your art!
Robert A. MarzulloRam Studios Comics
Download links:
Password/解压密码:www.tbtos.com