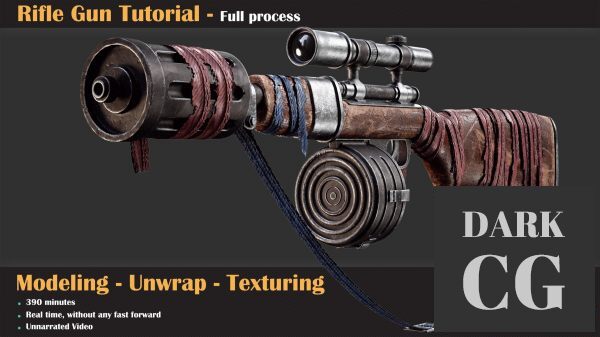 This is a full process of modeling, unwrapping, and texturing a rifle with a scope from bioshock infinite's gun concepts in the lovely blender and substance painter! You should have basic knowledge of these software to follow up correctly.
Tutorial Contents:
Modeling
4+ hours of modeling process of stylized old rifles with scope in the blender, everything is clear, and you can follow up easily on the modeling process. in the end, we'll add fabric parts in marvelous designer.
UV
In this part, we use the most powerful software in unwrap area! We load the model in Rizom UV and Unwrap the model in one UV Tile!
Texturing
For the texturing part, Substance painter is the right choice, and we start our process in it by baking mesh maps and categories our model in 4 different folders. In the continues, we focus on each folder separately and create the materials. In the end, we used the marmoset toolbag for the final presentation quickly and easily!
Software Used:
Blender
Marvelous Designer
Rizom UV
Substance Painter
Marmoset Toolbag
Level:
Intermediate
Prerequisite Basic knowledge of the software used ( how to navigate and work with primary functions in them )
Download links:
Password/解压密码:www.tbtos.com