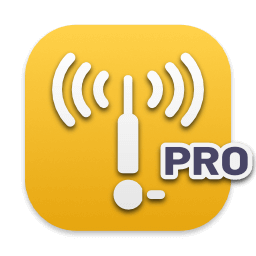 WiFi Explorer Pro takes the code base of WiFi Explorer, and adds a set of features that makes it the right tool for WLAN and IT professionals. You can use WiFi Explorer Pro for preliminary assessments, to help design and validate wireless networks installations, as well as to identify channel conflicts, overlapping, poor signal quality and other issues that may be affecting the connectivity or performance of your home, office or enterprise wireless network.
Features
Passive and directed scan modes
Spectrum analysis integration
Custom filters
Support for remote sensors
Support for networks with hidden SSIDs
Additional columns with advanced information
Additional organization options for scan results
Dark and light themes
What's New:
Version 3.4.7
Adds support for Android-based remote sensors using analiti's real-time stream function.
Removes passive scan options in Apple silicon Macs as channel hopping can't be performed reliably.
Fixes wide channel and channel list for 6 GHz networks using a 40 MHz channel width.
Fixes column positioning when showing or creating new columns.
Fixes incorrect SSID for nontransmitted BSSIDs.
Other minor fixes and improvements.
Screenshots: