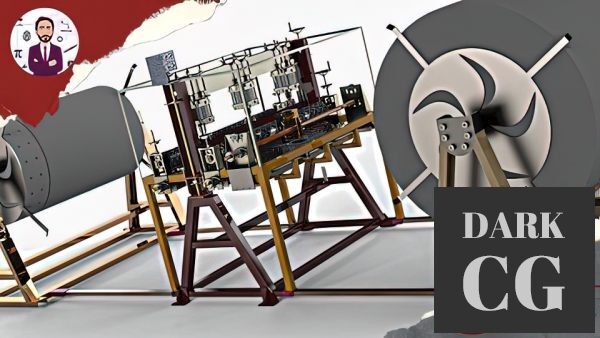 We will go through almost ALL the 3D Models and Questions that may face you during your CSWA Examination |By Wael Mlik
What you'll learn
How to Use SOLIDWORKS 2017 2019 2016 2015 or any version to make basic 3D models
The student is ready to take the CSWA exam offered by SOLIDWORKS cad Certification Center
How to make Animations with solidworks
How to Read a 2d Drawing in the best way
How to pass a solidworks certification CSWA Exam
All what do you need to pass and get the CSWA certification
How to make a Mechanical Assembly
How to make special 2D 3D models
Learn SOLIDWORKS cad features
Confidently list your SOLIDWORKS cad skills in your resume
How to sketch with different 2D sketch commands
How to find your model's 3D mass, volume, and center of gravity.
How to modify given 3D parts to match design needs
How to create additional reference planes
Requirements
No prior knowledge is needed
Description
– SURPRISE GIVEAWAY: COMPLETE MECHANICAL SYSTEMS (3D MODELS, ASSEMBLIES, VIDEOS, DRAWINGS ETC.) & CSWA EXAMPLES PREMIUM FILES FOR MY STUDENTS!- The course is recorded in 2020 using SOLIDWORKS 2017, but the material version is independent so you can use older ones like solidworks 2019 2016 2015 or any others without any issue- Sheets so you can easily review the information- This course include 5 Sections:1 Introduction Section For the Basics of SOLIDWORKS2 Sections for 2 solidworks certification CSWA exam examples1 Section for the most common solidworks CSWA Exam1 Bonus Section============================================================My approach is simple: we focus on real CSWA cases and I present the best techniques that require minimal effort yet produce maximum results. All my content is focused on getting the job done in the least amount of time possible.This is the ultimate SOLIDWORKS training course that will take you from absolute beginner to proficient SOLIDWORKS user in no time at all. ============================================================With this course, you will get:After finishing the Second Section CORRECTLY, a notification of completion will be sent By SOLIDWORKS CERTIFICATION CENTER including a QR code for verification Certificate of completionFull, free lifetime access (increasing over time).All future extra lectures and upgrades will always be free.Regular free bonuses additions to increase your knowledge. – lots of fun topics!Today, you can start your journey to becoming a SOLIDWORKS professional with ZERO prior experience!I stress that you need no prior experience and there is nothing to buy or pay for!!! You will only need SOLIDWORKS itself.
Overview
Section 1: SOLIDWORKS Basics
Lecture 1 Let's get Started: Exercise #1
Lecture 2 Let's get Started: Exercise #2
Lecture 3 Let's get Started: Exercise #3
Lecture 4 Let's get Started: Exercise #4
Lecture 5 Let's get Started: Exercise #5
Lecture 6 Let's get Started: All Exercises
Section 2: CSWA Examination Sample #1
Lecture 7 How To Install Tangix Tester PRO
Lecture 8 How To Download CSWA First Sample Exam
Lecture 9 Let's Start CSWA Exam #1: Question 1&2
Lecture 10 Let's Start CSWA Exam #1: Question 3
Lecture 11 Let's Start CSWA Exam #1: Question 4
Lecture 12 Let's Start CSWA Exam #1: Question 5
Lecture 13 Let's Start CSWA Exam #1: Question 6
Lecture 14 Let's Start CSWA Exam #1: Question 7
Lecture 15 Let's Start CSWA Exam #1: Question 8
Section 3: Other Common CSWA Exercises: 3D Models & Assembly
Lecture 16 Exercise #1
Lecture 17 Exercise #2
Lecture 18 Exercise #3
Lecture 19 Exercise #4
Lecture 20 Exercise #5
Lecture 21 Exercise #6
Lecture 22 Exercise #7
Lecture 23 Exercise #8
Lecture 24 Exercise #9: Assembly
Section 4: CSWA Examination Sample #2
Lecture 25 CSWA Exam #2: Question 1
Lecture 26 CSWA Exam #2: Question 2
Lecture 27 CSWA Exam #2: Question 3
Lecture 28 CSWA Exam #2: Question 4
Lecture 29 CSWA Exam #2: Question 5
Section 5: Extra Tips
Lecture 30 Bonus #1: Perfume Bottle
Lecture 31 Bonus #2: Flower Vase
Lecture 32 Bonus #3: Animation: Engine, Exploded View and Model Rotation
Individuals intending to learn the basics of SOLIDWORKS cad,Individuals intending to take SOLIDWORKS Associate Certificate cswa,Anyone who wants to use SOLIDWORKS,People who have no experience whit SOLIDWORKS,People who want to use SOLIDWORKS for Job, educational puposes or anything else
Download links:
Password/解压密码:www.tbtos.com