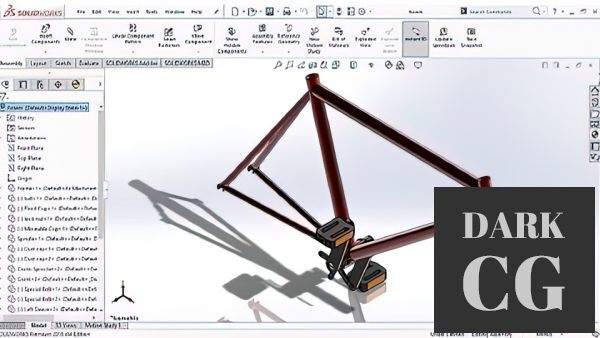 Master SOLIDWORKS Basics & Move to an Advanced Level by Practicing 45 Exercises.
What you'll learn
Understand 3D Modeling Concept in softwares like SolidWorks.
Gain sketching and modeling skills by practicing more than 40 exercises.
Model faster and more efficient.
Be familiar with SolidWorks assembly.
Make realistic assemblies.
Requirements
SolidWorks Software (New versions are preferred).
You need to be comfortable with mechanical parts.
Description
This is a practicing course for SOLIDWORKS. Learn the industry-leading CAD software now and have a chance for more job opportunities with an average salary of 58,000$.
Master the basics and move to an advanced level in SOLIDWORKS.
Why would you take this course?
1- Enhance your problem solving skills in the field of 3D modelling
2- Learn SOLIDWORKS by practicing 45 exercises designed to boost your skills in 3D Modeling and Assembly.
3- Upgrade your skills from drawing the first sketch to modelling advanced parts and making realistic assemblies.
Course topics overview
Many companies in the fields of Mechanical Engineering, Automotive Engineering, Industrial Engineering … etc use SOLIDWORKS in the design process. We will learn about this software and you will be able to create a new job opportunity as a SOLIDWORKS designer.
I designed this course based on Learn by doing approach. A brief introduction will put you on the track of how to start using the software and understand the 3D modelling concepts. You will watch more than 40 parts created step by step, these exercises were designed to cover the most important features in SOLIDWORKS. Finally 5 exercises will teach you how to start making realistic and functional assemblies.
Complete the 45 exercises, quizzes and project and you will move to an advanced level in SOLIDWORKS.
Overview
Section 1: Introduction
Lecture 1 Promo
Lecture 2 Course Introduction
Lecture 3 SolidWorks Interface and Navigation
Lecture 4 3D Modeling Concept !
Section 2: Sketches & Features
Lecture 5 Sketches
Lecture 6 Relations and fully defined sketches
Lecture 7 Let's draw your first sketch
Lecture 8 Features – Extrusion & Revolving
Lecture 9 Features – Shell, Fillets & Chamfers
Lecture 10 Features – Swept & Hole Wizard
Lecture 11 Parent & Child Relations between Features.
Lecture 12 Summary of explained features
Lecture 13 Productivity (How to model faster)
Section 3: 3D Modeling – Practicing 40 exercises
Lecture 14 Exercises 1,2
Lecture 15 Exercise 3 (Power Screw)
Lecture 16 Exercises 4,5,6
Lecture 17 Exercises 7,8
Lecture 18 Exercises 9,10
Lecture 19 Exercises 11,12
Lecture 20 Exercises 13,14,15
Lecture 21 Exercises 16,17
Lecture 22 Exercises 18,19,20
Lecture 23 Exercises 21,22,23
Lecture 24 Exercises 24,25,26
Lecture 25 Exercises 27,28,29,30
Lecture 26 Exercise 31 – Motorbike's brake rotor
Lecture 27 Exercise 32 – Spider of a tripod joint
Lecture 28 Exercise 33 – Model professional fins with FLEX
Lecture 29 Exercise 34 – M8X1.25 Nut
Lecture 30 Exercise 35 – Propeller
Lecture 31 Exercise 36 – Hand Bracelet
Lecture 32 Exercise 37 – Necklace
Lecture 33 Exercise 38 – Electric Cable
Lecture 34 Exercise 39 – Truck Steering Wheel
Lecture 35 Exercise 40 – Engine Air Filter
Lecture 36 Project
Section 4: Assembly – Practicing 5 exercises
Lecture 37 Introduction to assembly with simple exercise
Lecture 38 Exercise 2 – Assemble two parts with bolts and nuts
Lecture 39 Exercise 3 – Assemble two parts with bolts
Lecture 40 Exercise 4 – Bolt & Nut (Mechanical Mates)
Lecture 41 Exercise 5 – Tube Vise (Advanced Exercise)
Section 5: Tips & Tricks
Lecture 42 Changing Units Permanently
Lecture 43 Bonus Lecture: SOLIDWORKS Dynamics Course – & MATLAB COURSE
Students who know SolidWorks software and want to learn it or increase their skills.,Students who want to learn how to turn their design ideas into 3D objects.
Download links:
Password/解压密码:www.tbtos.com