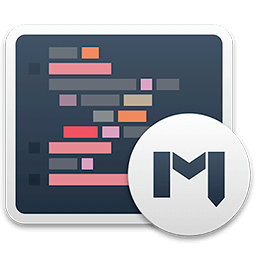 MWeb can handle professional-level markdown with support for markdown extensions. It provides publishing to various social networks and blogging formats, as well as various preview themes. It also has two work modes: external, which allows the addition of external folders; and library, designed for note-taking and static blogging.
Features
Full GFM (GitHub Flavored Markdown) supported
Publish/Update to WordPress, Metaweblog API services, WordPress.com, Evernote, Blogger, Tumblr.
Drag-and-drop or paste to insert pictrue and display immediately.
Live preview and export to PDF/HTML/RTF/DOCX
External folder, library, static blog/website generator
What's New:
Version 4.3.1:
Added: Now when opening a document, it will automatically scroll to the position when the document was last closed.
Added: Starting from this version, the non-Store version supports automatic updates, and it is no longer necessary to go to the official website to download.
Added: Added "Automatic Equation Numbering" option for LaTeX equations, in "Preferences – General – LaTeX more settings".
Added: holding a option key and click a category in the Library or a folder in External folder mode will "expand/collapse" all subcategories.
Improved: When importing a theme, if an existing name is detected, it will first ask whether to overwrite the theme with the same name.
It is no longer necessary to distinguish between the Big Sur version and the Catalina version.
Other bug fixes and improvements.
Screenshots: