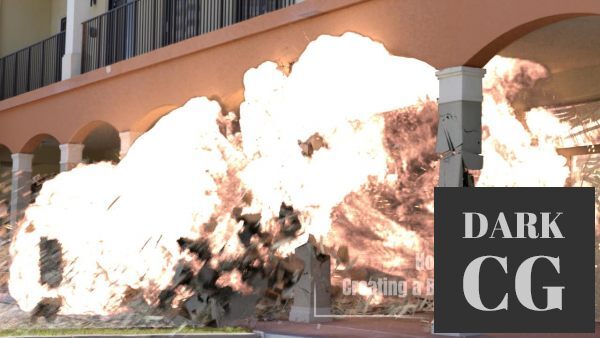 Learn all the steps needed to blow up a building in Houdini from a real world photograph and create a VFX composition
What you'll learn
This course will show you all the steps involved in blowing up a real world building from a photographic image.
I will show you how to fracture the building geometry and create custom "chunks" to use as rbd objects.
We will see how to create different types of RBD objects representing concrete, glass, and window blinds.
We will use Vellum sims to create bending geometry that deforms from the explosion.
We will use the more modern sparse solving method to create an exploding fireball.
We will create all renders necessary to create a final comp.
I will show you how to use the explosion as a light source to illuminate the scene.
We will create a final comp using Natron.
Requirements
A working knowledge of Houdini is strongly recommended before starting this course.
A recent release of Houdini(18+) with Sparse solving tools.
A computer with enough power to run Houdini and a decent internet connection for HD streaming.
This course will be using Houdini 18.5.499 on a windows 10 based system throughout the videos.
Description
Hello potential students.! This course is going to cover everything you need to know in order to destroy and blow up a building from a real photograph.
There are over 10.5 hours of lecture videos going over the process of destroying a building.
You should have working knowledge of Houdini before enrolling in this course. If you have done my previous Houdini course "Master Houdini FX", you will have no problem following this course since I build on a lot of the initial principles of rig creation that were presented in the first course.
This is a "Fast paced" course, meaning I will not be explaining every function of every node I use. I will explain where necessary, but basic nodes will not be explained in detail, this is to try keeping this total course time to a minimum, and another reason you should have basic Houdini knowledge prior to enrolling into this mid level course.
All lectures will have Houdini hip files for you to download and any other necessary assets. If you have any questions, please feel free to ask. I encourage you to watch the intro video and watch some of the "free" videos so you can get a sense of what the course is like.
The basic breakdown of the course goes like this
We will start with an overview of how and why I chose the building I did to use as our subject.
I will include the model file and briefly go over what I did to model the building, but will not be showing the creation process step by step. It took around 4.5 hours of Boolean modelling to finish and would be unnecessarily boring to make you watch the model process.!
We will then start selectively fracturing the building model section by section until we have all geometry fractured.
We then start doing RBD sims and even throw a little vellum into the mix to make our sim more interesting.
Once we have our RBD's and vellum finished, we go into simulating our fireball explosion using the more modern "Sparse" simulation tools.
We will then create an embers pass to give our sim a little something extra.
We will be creating and assigning any and all shaders that are needed as we go.
We will then go into rendering and I will show how to create all the renders necessary for a full comp.
This course will be using Mantra as our render engine to keep things "off the shelf Houdini" and not rely on plugins.
Once all the renders are done, we will assemble a full comp including camera shake to add some more realism to the end result.
This course will teach you everything you need to know to be able to go out and photograph your own building and create all the custom destruction you wish. Once you finish this course using the included image and building geometry, you will be ready to find your own building in your own town to photograph and recreate this setup on a building of your choice. I will be presenting a very straight forward and "easy" method to creating an FX shot like this.
If you have been using Houdini for a little while, you should have no problems following this course. If you need a refresher or are just starting to use Houdini, I recommend doing my first Houdini course "Master Houdini FX" as a primer to this course.
Who this course is for
Anyone that is interested in seeing the steps involved to blow up and destroy any type of building inside Houdini from an FX artist with 20+ years experience in post production.
Aspiring FX artists and working professionals looking to learn new skills or see one method in creating building destruction FX.
MP4 | Video: h264, 1280×720 | Audio: AAC, 44.1 KHz, 2 Ch
Genre: eLearning | Language: English + srt | Duration: 46 lectures (10h 57m) | Size: 9.1 GB
Download links:
Password/解压密码:www.tbtos.com