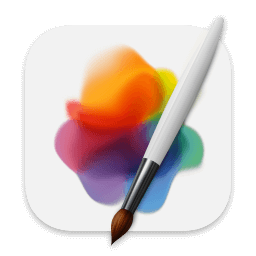 Pixelmator Pro is an incredibly powerful, beautiful, and easy to use image editor designed exclusively for Mac.
With a wide range of professional-grade, nondestructive image editing tools, Pixelmator Pro lets you bring out the best in your photos, create gorgeous compositions and designs, draw, paint, apply stunning effects, design beautiful text, and edit images in just about any way you can imagine. And thanks to its intuitive and accessible design, Pixelmator Pro is delightfully easy to use — whether you're just starting out with image editing or you're a seasoned pro.
Exceptional Design and Functionality
The modern, single-window interface of Pixelmator Pro is designed exclusively for working with images on a Mac
An intuitive and refined design makes image editing easy and accessible, even if you're a complete beginner
Native dark and light appearances adapt to the light and dark modes of macOS
A customizable interface lets you organize your creative environment just the way you want
Choose from workspace presets created for photography, design, illustration, and painting
A full-featured Photos extension lets you edit images using Pixelmator Pro without ever leaving Photos, saving layered, nondestructive edits directly to your library
Professional Tools
Enhance your existing images and create new ones using every image editing tool you could ever need
Edit nondestructively, adjusting individual changes whenever you like
Easily move, resize, and arrange objects to create stunning compositions
Adjust colors with a collection of nondestructive, machine learning-powered color adjustments
Enjoy superior support for RAW files, editing RAW images using all their extended range data
Create digital or traditional paintings using handcrafted, fully-customizable, dual-texture brushes with full support for digital graphics tablets
Combine the built-in effects to create any artistic or special effects you can imagine
Save adjustment, effect, and layer style combinations as presets, use them in any of your images, and share them with others
Speed up image editing with hundreds of presets for color adjustments, effects, layer styles, and shapes
Magically remove small imperfections or entire objects, seamlessly clone parts of your photos, and lighten or darken precise areas using a full set of retouching tools
Use the reshaping tools to easily change the shape of any object or area in your images
Add customizable vector graphics designed by the Pixelmator Team
Create your own vector graphics using the Pen tool
Easily design great-looking text with a full set of typography tools
Quickly create curved, circular, and path text
Optimize and save your images for the web, using advanced compression to shrink file sizes
Batch process images using built-in Automator actions
Effortlessly automate workflows using full-featured AppleScript support
Image Editing Enhanced by Machine Learning
Magically remove objects, recreating image areas with stunning realism using the Repair tool
Use ML Enhance to intelligently enhance photos with a machine learning algorithm trained on millions of professional photos
Zoom and enhance image resolution with the incredible ML Super Resolution
Automatically copy the look of one photo to another with ML Match Colors
Remove image noise and compression artifacts while preserving details using ML Denoise
Quickly make accurate selections with ease using the Quick Selection tool
Compatibility
Open and edit images in all the most popular image formats, including JPEG, TIFF, PNG, PSD, HEIF, SVG, PDF, GIF, BMP, TGA, WebP and JPEG-2000
Open and edit Photoshop images with layers
Open and edit SVG vector images
Share your images to Photos, Mail, AirDrop, and other locations
Built Exclusively for Mac
Designed exclusively for macOS, Pixelmator Pro supports almost every major macOS feature and integrates seamlessly with macOS Big Sur.
What's New:
Version 2.4
Pixelmator Pro 2.4 Odesa brings a completely redesigned Layers sidebar, color adjustments and effects layers, over 200 beautiful new vector shapes, support for M1 Ultra, and more.
Redesigned Layers Sidebar
The Layers sidebar has been redesigned to make it much easier to work with layers.
Informative layer subtitles now show useful info about layers, depending on their type: sizes for image layers, text formatting for text layers, path info for shape layers, and more.
The design of the blending controls has been updated and they'll now appear at the top of the Layers sidebar by default.
Layers sidebar viewing options can now be customized, so you can change the size of thumbnails, the visibility of layer subtitles, and the position of the blending controls.
You can now quickly add an empty layer using the new Add Empty Layer button.
Layer masks will now appear as separate layers in the Layers sidebar.
Layer masks can now be unlinked from their parent layer – double-click the line connecting a layer mask to its layer to link or unlink it.
Color Adjustments and Effects Layers
Color adjustments and effects layers let you apply color adjustments or effects to all the layers below them in a composition.
These new layer types work just like other layers — they can be masked, hidden, rearranged, and more.
You can now easily apply selective edits by using colors adjustments and effects layers with masks.
Use the Shift-Command-A keyboard shortcut to add a colors adjustments layer and Shift-Command-F to add an effects layer.
Over 200 New Shapes
Over 200 new artist-designed shapes have been added to Pixelmator Pro.
Several new shape collections have been added and others have been rearranged, so there are now 10 collections: Basic, Activities, Food, Objects, Arches, Science, Animals, Plants, Organic, and Symbols.
All shapes are pixel-perfect – this means their vector points perfectly align with pixel boundaries, ensuring any icons you create won't have any unwanted blurring.
M1 Ultra
Thanks to support for the M1 Ultra chip, Pixelmator Pro flies when performing machine learning-based tasks on the latest Mac Studio devices.
Tasks like automatic background removal, super-resolution, and photo enhancement are up to 1.7 times faster on M1 Ultra compared to M1 Max.
Scrubby Zoom
The Scrubby Zoom mode makes it easier to zoom images when using a graphics tablet or mouse.
When using the Zoom tool, you can simply drag your image horizontally – like scrubbing video controls – to zoom in and out.
When using other tools, first press the Space key, then the Option key to temporarily activate the Zoom tool.
If you'd like to, you can change the scrubby zoom scroll direction from horizontal to vertical using the following Terminal command: defaults write com.pixelmatorteam.pixelmator.x enableVerticalScrubbyZoom -bool true
Other Improvements
You can now create masks by Command-dragging layers onto other layers.
You can also copy and paste masks between different Pixelmator Pro documents.
Use the new Shift-Command-T keyboard shortcut to insert text layers and Option-Shift-Command-T to insert circular text layers.
Preserve Transparency, Replace Image, and Choose Mask options are now available in the Layers sidebar shortcut menu.
Screenshots:
Title:

Pixelmator Pro 2.4.4

Developer:

UAB Pixelmator Team

Compatibility:

macOS 10.15 or later

Language:

English, French, German, Italian, Japanese, Korean, Portuguese, Russian, Simplified Chinese, Spanish, Traditional Chinese

Includes:

K'ed by HCiSO

Size:

415.34 MB
388608 375746camping have been the very best activity that we can have during the summer, i love to roast marshmallows on a campfire` 306428

287017 668169What a lovely weblog. I will undoubtedly be back. Please maintain writing! 676083