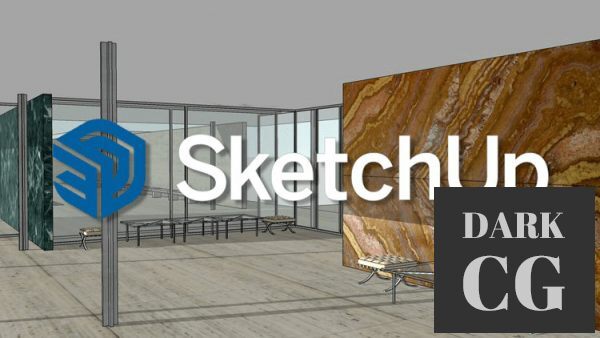 Udemy – Learn Sketchup with the Barcelona Pavillion.
Sketchup course where you will learn ALL the SKETCHUP tools modeling the iconic Barcelona Pavilion
What you'll learn
Model an architecture, landscape, interior design or industrial design project from scratch to detail.
Assignment of materials in the project for subsequent rendering
Creation of technical plans: plans, elevations and sections as well as 3D images of the project
Creation of animations in video format to tell the final project in a more interactive way
Requirements
No prior knowledge of the program is required
Description
Welcome to everyone. In this SKETCHU PRO course we will start from an initiation level to end up dominating the program at a very high level. We will learn all the SKETCHUP PRO tools such as: materials, styles, scenes, animations, sunlight, connection with Google-Earth, photomatch, dynamic components, terrain, plugins and much more. But the REALLY INTERESTING thing about this course is that we will do all of this in a SUPER PRACTICAL WAY. We will do it while MODELING A SINGLE BUILDING: THE BARCELONA PAVILION designed by the architect Mies Van Der Rohe in 1929.
It is a course in which I have carried out a very large synthesis exercise of all my knowledge in order to offer you a course where ALL THE SKETCHUP TOOLS are seen ONLY WITH ONE MODEL. The goal is to make LEARNING MORE FLUID AND FUN.
Through this project you will learn
-Control the scale of the model
-Correct use of groups and components
-Using dynamic components
-Model order through the use of layers
-Correct use of materials
-Correct use of furniture and exterior elements to SKP
-Correct placement of north and sunlight of the scene
-Artistic use of styles
-Use of sections
-Dimensions and text
-Making animations in mp4 format from our scenes
SKETCHUP PRO is a 3D modeling program from the Trimble company. It is a program designed for architects, urban planners, landscapers, engineers, draughtsmen, quantity surveyors, interior designers, product designers and, in fact, any professional in the design sector. It stands out, unlike other 3D modeling programs, for its intuitive interface that allows you to work fluidly, being able to deal with the most complex projects in the same way. It is for this reason that more and more people demand their knowledge.
Welcome to SKETCHUP PRO!
And if you like the course do not forget to write a good review. It will help me a lot to be able to continue creating new courses
Download links:
Password/解压密码:www.tbtos.com