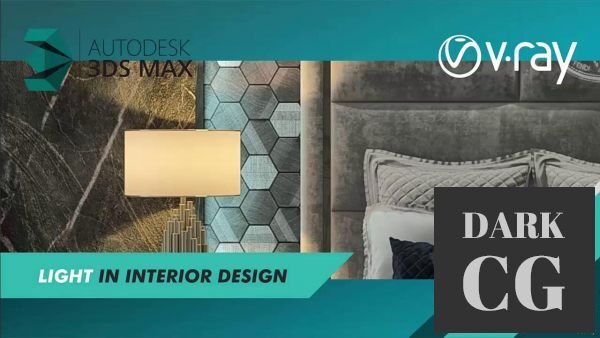 Udemy – Light in interior design.
V-ray lights basics & render basics for interior designers
What you'll learn
understand how to set-up and use Vray lights for interior design projects
learn the basics of light process
learn the principles of lights adjustment in interior design
understand how light works in Vray
Requirements
3ds max + Vray 5
Description
ntend to create their own interior design projects.
In this course I tried to explain based on my practice of creating interior design projects the main concepts that a beginner interior designer needs to know in order to apply and adjust the lights in a project.
Usually when designers begin light topic and start to obtain their first renders, a lot of confusing parts appear as they don't understand why they cannot create a light source that actually does not need any adjustments, but acts 100 % like a physical correct light like in reality. When you begin to tell him that he needs to adjust the exposure, the color mapping, gamma, to set the vray physical camera, to choose render settings, to balance and adjust lights in his scene and so on, that's where they begin to get confused. In this course I tried to cover those basics so it begins to make sense.
While teaching this topic to other students and using their feedback when it comes to light, a lot of people do not understand what it means to set up a good lighting situation inside an interior design project. This understanding it's not linked to the fact that they can't do that, we all see every day different types of light layouts in spaces that we visit, the idea is that only a few persons pay attention to details how that lights are installed in reality. If we intend to create interior design projects than for the start we must watch carefully and more important we must try to understand why those lights are installed in a specific way, usually they do have a logic of focus and adjusting the light intensity in certain areas. We must recreate some interior design projects, and if we talk about light, than we will have to recreate that light position too, by doing this we will begin to understand the process of light layouts that are designed by interior designers that already are creating those spaces.
When we begin to apply these ideas in our interior design projects in 3ds max and vray, these are the instruments that we will use for modeling and rendering, we must already have an overall understanding of the light topic and how light works inside those programs. The light itself got the same concept no matter which program we use, but we need to learn the instruments that provide us with the knowledge how to apply those ideas and more important to understand how to obtain a good render, as the image is actually the final result that we show to our clients.
Download links:
Password/解压密码:www.tbtos.com