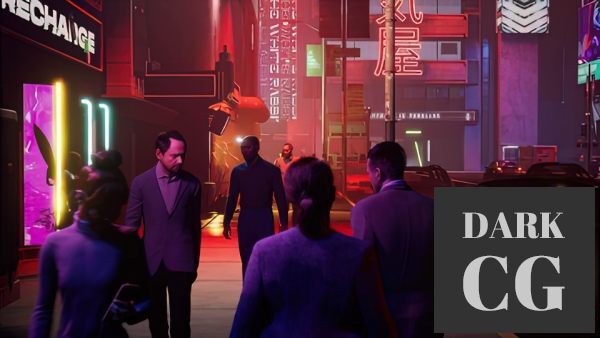 Udemy – Create a Cyberpunk street in Unreal Engine 5.
What you'll learn
create environment with unreal engine 5
How to use Unreal Engine 5's cinematic sequencer to make CG animation
Installing Unreal Engine 5
Adding and working with cameras
Create animation in unreal engine 5
How to use unreal engine 5
Introduction to unreal engine 5
Introduction to animation in unreal engine 5
Requirements
Computer that can run Unreal Engine 5
NLE software that can import png sequences
12-core CPU at 3.4 GHz, with an NVIDIA RTX 2080 or AMD Radeon 5700 XT graphics card or higher, and 64 GB of system RAM 500GB Hard Drive Space
Operating System Windows 10 64-bit Processor Quad-core Intel or AMD, 2.5 GHz or faster Memory 8 GB RAM Video Card/DirectX Version DirectX 11 or DirectX 12 compatible graphics card
Description
Now just a disclaimer if you want to use the same exact buildings i used in this course you are going to have to buy two cyberpunk kitbash3d assets but you can also use other free assets from the epic marketplace if you would like. Its totally up to you.
​HARDWARE I USED FOR THIS COURSE
Intel(R) Core(TM) i7-10700K CPU @ 3.80GHz 3.79 GHz
RTX 3060
16GB RAM
1 TB SSD
Windows OS
HARDWARE REQUIREMENTS
12-Core CPU @ 3.4 GHz
64 GB RAM
GeForce RTX 2080 and up
Atleast 8GB of VRAM
We will be using the free City Sample from the Epic Marketplace in this course so you will need to be able to run and open that project.
So you wanna impress your hot neighbor but you dont know how? Lucky for you today i released my how to make a cyberpunk street in unreal engine 5 for beginners. For the price of 2 gallons of gas and 2 hours of your time you will go from not knowing about unreal engine to creating this an amazing cyberpunk street environment…
Ive said this last year and I will say it again and again. Unreal Engine 5 is the future so you better get on it your gonna left behind. For my loyal supporters who will purchase this course, thank you. and for you people who wont, i hope your graphics card catch on fire.
Table of contents
Part 1
Installing Unreal Engine 5
Creating project with City Sample Demo (free from Epic Marketplace)
Purchasing two Cyberpunk assets from Kitbash3d WILL HAVE TO PURCHASE SEPARATELY IF YOU WANT YOUR FINAL PROJECT TO LOOK LIKE MINE) kitbash3d
Merging Kitbash3d assets with City Sample Demo project
Creating new blank level
Quick viewport controls overview
Part 2
Placing cyberpunk buildings and props into the level
Walking around the level for the first time using Third Person Template from City Sample Demo
Creating road using new Modeling plugin built in UE5
Adding vehicles from sample as size reference
Quixel megascan
Downloading free Quixel Megascan Assets
Creating blend materials using Quixel Bridge for the Road
Part 3
Enabling Lumen
Enabling Virtual Shadow map
Deleting all default lights from the scene to start from scratch
Create post process volume for the level
Setting base exposure
Adding street props
Part 4
Creating lights for base exposure
Creating more lights in the scene
Finessing the road
Part 5
Populating the scene with crowd ai from the city sample demo
Populating the scene with vehicles from the city sample demo
Adding more crowd
add more props
Part 6
Downloading free high quality characters from the epic marketplace
Getting rid of the nasty texture streaming error
Enabling and creating cloth physics
Checking out the scene statistics by the number
Part 7
Creating movie sequence
Creating camera
Animating and keyframing camera
Enabling Movie Render Queue
Movie Render queue settings
Movie Render queue console variables
Saving Movie Render queue presets
Rendering the sequence
Checking out the rendered sequence in NLE
Thank you!
Who this course is for
Beginner Unreal Engine 5 users
Unreal Engine 5 students
Animation students
CG animators
Virtual production
Virtual Production students
VFX students
3d modeler
movie previz
Unreal Engine 5 Beginners
Download links:
Password/解压密码:www.tbtos.com