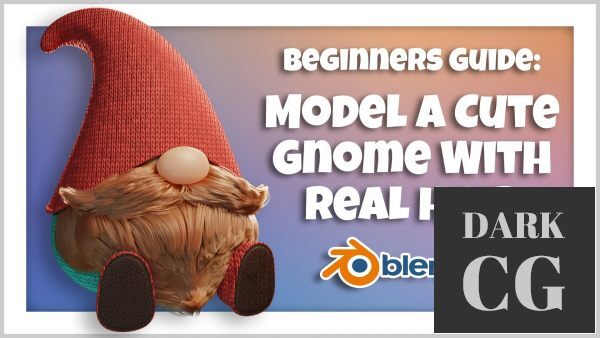 Skillshare – Blender 3D for Beginners: Learn to Model a Cute Gnome With Real Hair.
I've worked for over a decade as a professional artist in multiple different industries. My jobs have included creating user interface art for a major video game development company, a green screen footage editor and 3d background artist for a video production company, and working as the lead 3d Artist and later Studio Director for an award winning Architectural Visualization studio.
In this class I'll guide you through a fun beginner exercise where we'll model, texture and render a cute gnome with a real hair beard. We'll go through each part of the process step-by-step, so you should find it fun and easy to follow along with me.
We're using Blender for this tutorial, which is an amazing and totally free 3d software. The only barrier to entry is having a computer to run the software on.
A gnome might seem like an odd choice for a beginner project, but it really is a perfect place to start!
While modeling your gnome, you'll learn:
Modeling – which is how we'll create the body of our little gnome
Modifiers – that add additional modeling effects such as smoothing
Texturing – this will add color and detail to the clothing of our gnome and their beard.
Lighting – we'll add lights to illuminate our scene
Rendering – which involves positioning a 3d camera and generating a picture of our gnome
Compositing – that will add a background and fun pattern behind our gnome render
At the end, we'll have a cute gnome to render to our heart's content. It's also a character that can be easily altered to give them a different look pretty easily.
Our class project will have you take all of the techniques you learned making the gnome, and then apply them to make a unique gnome of your design. This would include adjustments like changing their hat shape and style, clothing colors and fabric or their beard style and color.
Download links:
Password/解压密码:www.tbtos.com