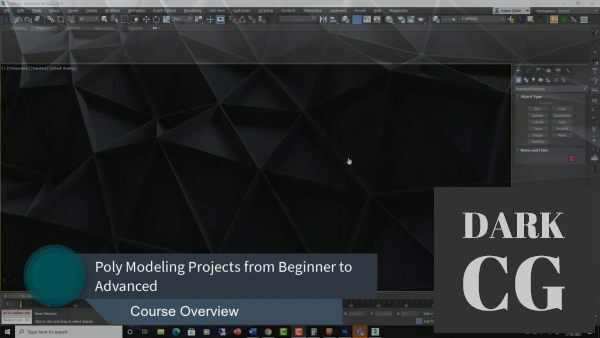 Skillshare – 3ds Max: Master Poly Modeling With These Simple Projects
Are you ready to unlock the full potential of 3ds Max, and learn to model any advanced objects you can imagine? Poly modeling is the key, and this course will give you the foundation you need to do it.
In this course you will start with a basic introduction to poly modeling tools and principles, but that won't take long. We will quickly jump in to start creating unique projects, and learn by doing. Projects will start out simple and continue to more advanced.
WHY LEARN POLY MODELING?
Poly modeling is an extremely powerful tool within the world of 3d graphics. It gives an artist the capability to create any kind of form they can imagine — from simple, to highly intricate and organic. For many things that 3d artists will wish to create, it is the best and sometimes only way to go.
LEARN FROM A PRO
Hi, my name is Adam Zollinger and I have been teaching on Udemy for about 8 years. I have about 100,000 students worldwide and teach on the subject of 3d graphics, having 20 years of professional experience in that field.
Specifically, I am an architectural visualization artist (arch viz) so a lot of the poly modeling is done from that perspective, but the skills translate to all aspects of 3d, and these techniques can be used to create any kind of object, whether for architecture or sci-fi, etc.
HOW IS THE COURSE STRUCTURED?
In this course, students can start with a basic introduction to the principles of poly modeling. If this is too basic, students are encouraged to jump right into the projects. To start, there are 3 different projects (ranging from easy to advanced), with each project building new skills and using new tools and techniques to build your foundation in poly modeling. By the end, students will be modeling a photo realistic piece of furniture to add to their library of assets. We will also discuss UVW unwrapping in the advanced project, so students will understand how to setup their models for custom materials.
Download links:
Password/解压密码:www.tbtos.com