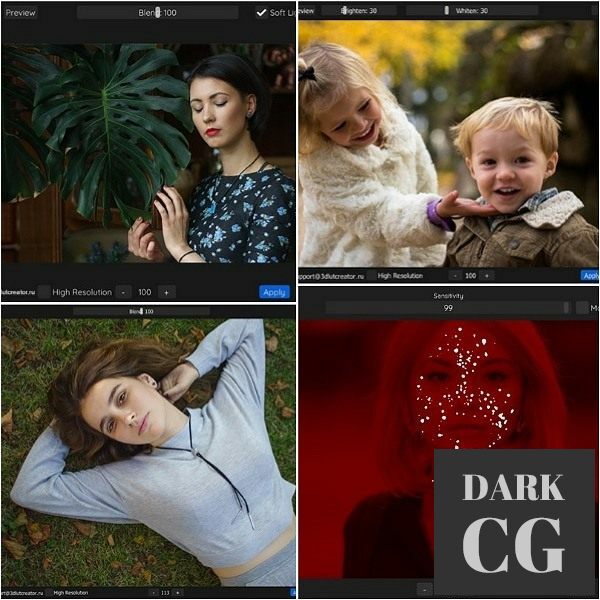 Download new collection of Retouch4me Photoshop Plugins: Dodge & Burn, Heal, Skin Tone and White Teeth for Windiws x64.
Includes:
Dodge & Burn 1.009
Retouch4me Dodge & Burn – For high-end retouching. Retouch4me Dodge & Burn automatically retouches the portraits with the dodge&burn technique used by high-end retouchers. Retouch4me Dodge & Burn saves retouchers' time. Just imagine how long it takes to get the same result manually!
Heal 1.004
Retouch4me Heal – Healing small skin defects. Auto skin selection. No need to select skin manually anymore! Retouch4me Heal automatically recognizes skin areas on photo and retouches it. No need to do manual work with problem areas on skin. Just one button press to get result!
Skin Tone 1.006
Retouch4me Skin Tone – Makes an even skin tone on your photos! Retouch4me Skin Tone automatically finds open skin areas in photos, determines the average skin tone and adjusts the skin tone to that color.
White Teeth 1.002
Retouch4me White Teeth – For a white smile. Retouch4me White Teeth automatically finds teeth in the photo and whitens them. Often, after applying warm tints in the photo, the teeth turn yellow. Retouch4me White Teeth returns whiteness to teeth. It also works on group portraits!
System Requirements:
Operating System:
PC: Windows 7 (x64), Windows 10 (x64)
Hardware:
– At least 6 Gb of RAM
– 64-bit (x64) processor, 1.2 GHz or faster
– PC: GPU with 4GB RAM or CPU with OpenCL 1.1 support
Retouch4me works as an Adobe Photoshop plug-in:
It can also be used as a standalone app or an external editor in Adobe Photoshop
Download links:
Password/解压密码:www.tbtos.com