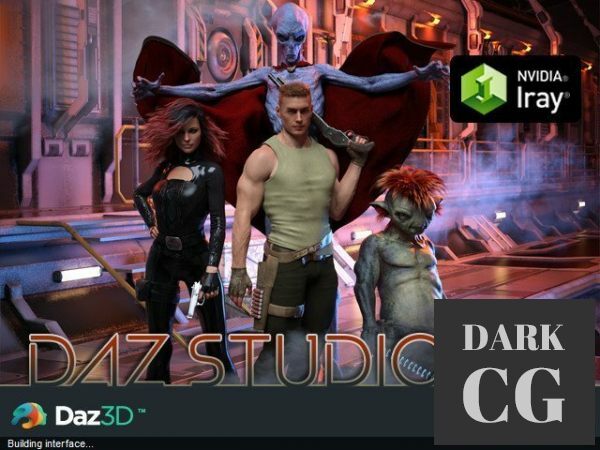 Download new version of DAZ Studio Professional 4.16.0.3 for Windows.
How you get started with DAZ Studio depends on what you want to accomplish. If you are a graphic designer or a user of another 3D platform like Maya or Poser, and you need custom 3D art, then you need to explore our digital warehouse of 3D characters, accessories, and environments. DAZ Studio lets you use anything from our huge catalog to create impressive, custom digital graphics at a fraction of the cost, time and hassle. See what other professionals are doing with DAZ Studio.
What will you create with DAZ Studio?
Writing a fantasy novel and need a hero? No Problem.
Need to storyboard some lighting effects? No Problem.
Need to create a flexible and complex character for an online short video? No Problem.
Need a low cost realistic model and don't have time or budget to hire one? No Problem.
Have something lodged in your imagination that just must come out? No Problem.
New Product-centric Workflow
The new product-centric workflow makes working with your content much easier. From buying and installing new products to navigating and alternating between products and files, the workflow has been redesigned. To get started, log in to your Daz 3D account to take advantage of the new workflow.
Optional Filtering Based on Context
In earlier versions, the Smart Content pane displayed filtered assets/products based on compatibility with the selected object and assigned content types. The 4.9 update now also includes a "Filter By Context" option (on the Files Page and separately on the Products Page), that lets you disable this filtering behavior and allows you to see content that may not be strictly built to work with the selected object.
Synchronized Navigation and Filters
The new Sync Pages option helps you more easily navigate and alternate between products and files. When enabled in the Pane (Tab) Option Menu, Sync Pages attempts to synchronize category selection in one page with the corresponding category in the opposite page.
Viewing a Product's Contents
The Product Contents View has been redesigned to be more user-friendly. Functioning much like the Files and Products pages, the new Product Contents View now expands and collapses vertically in a familiar tree-like manner and consumes the whole page instead of a side scrolling list limited to a fraction of the space.
Filtering Products by Installed State
The Install State Filter Bar filters products displayed in the Results View a step further than the categories and sub-categories can on their own. This lets you view a product based on its status. Rather than search one by one through products, this option quickly filters products to show those that are installed, those that are have not been installed, those that need updating, and those that are currently in progress.
Sorting Products/Assets
Located directly beneath the Filter Bar, the Sorting Selector lets you sort assets or products using various attributes—such as Name, Product ID, Group ID, etc.—to make assets and products easier to find.
Assigning Products and Assets to Groups
Grouping helps you customize your content by letting you personalize the display of products and assets, which makes identification at glance even easier. Much like using a brightly colored marker or sticky notes, the Group feature marks assets and/or products in the Results View to help you visually group them using colors and shapes.
Render Engine Updates
Renderer engine updates include changes and bug fixes for both NVIDIA Iray and 3Delight render engines.
Download links:
Password/解压密码:www.tbtos.com