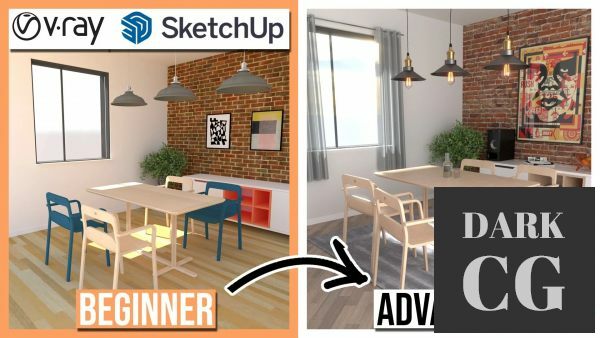 Download video tutorials by Skillshare – Vray Rendering for SketchUp – Beginner to Advanced – Create Better 3D Visuals! Interior Design
In this Class I will show you how you can Improve your Renders within Vray and hopefully increase your understanding of Vray for SketchUp
I will walk you through the steps taken to go from Beginner renders to move Advanced Renders.
Within the resources section of this class is a 3D model that you can download and follow along with as the class progresses. You can either follow along as I go with this model or apply these tips and skills to your own 3D models
The class will help you to create more realistic renders and visuals using Vray.
By the end of the lesson you should have a Collection of high quality realistic renders and have a better understanding of the Vray settings and elements.
The class consists of the following;
Opening existing Model in Sketchup
Highlighting the problem faced when clicking render
Creating Realistic lighting within Vray
Understanding and applying Vray materials within SketchUp
Creating our own materials within Vray
Importing geometry from the 3D warehouse and the Chaos Cosmos
How to position camera for dynamic renders
Getting scenes Render ready
Optimising Vray settings for renders
Adjusting Camera Depth of field for render Realism
Saving images in a readable format.
MP4 1280×720 | Total time: 1h 34m | ENG | Subtitles Included | 1.07 GB
Download links:
Password/解压密码:www.tbtos.com