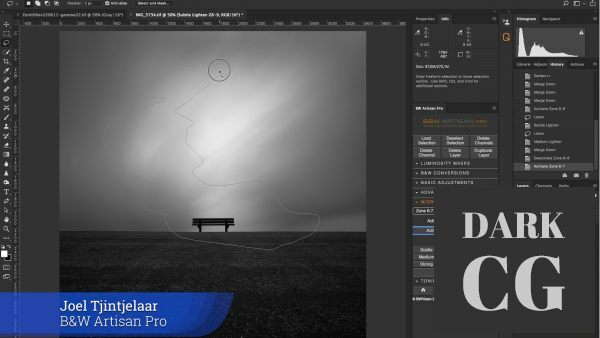 B&W Artisan Pro X 2022 v2.1.0 for Adobe Photoshop Win/Mac x64
B&W Artisan Pro X is the latest evolution of the B&W Artisan Pro software panels and is a panel for Photoshop for pure and unrestricted B&W editing. It is software designed by a B&W fine-art photographer, educator and highly praised expert on B&W photography, for other B&W fine-art photographers who need powerful but easy to use tools to support and express their artistic vision without any technical restrictions. The panel is designed for both beginners and experienced professionals in B&W photography.
What's New In B&W Artisan Pro X?
– Added a completely new and groundbreaking section called 'Creating Depth' using dynamic gradients. This allows the user to create gradients anywhere and in any direction he wishes accurately. More specifically: this is great for giving presence or depth to buildings, skies, and waterscapes, but the possibilities are endless. What this basically does is fully automate my iterative Selective Gradient Masks (iSGM) technique. The user can now easily add depth or presence to anything, without going through the many steps and many weeks of practice the iSGM workflow would ordinarily require. Darkening or lightening with dynamic gradients is far more subtle than normal darkening/lightening and is THE way to determine the look of an image.
– Under the 'Creating Depth' section is also a section called 'Special FX'. This allows the user to create clouds, reflections, highlights on objects or anything he wishes. These special effects can be used in any size, shape or direction the user wants and is fully customizable.
– The user can shape and stylize lighting effects accurately using the new 'Restore' buttons. It was a simple but quintessential part of my iSGM manual workflow.
– The 'Creating Depth' section has a total of 200 new functions.
– The 'Zones' under 'Luminosity Masks' are now replaced with custom-built 'MicroZones'. These zones come in steps of 1/3. This means, for example, that Zone 1 will consist of 'Zone 1', 'Zone 1 + 1/3' and 'Zone 1 + 2/3'. The user now has the option to generate a total of 31 microzones instead of the previous 11. Also new is the option to delete the microzones.
– Added a B&W generator with 4 presets. The generator is based on handpicked values, giving the user a unique and different image each time it is used. The results of the B&W generator are non-destructive and always fully customizable.
– The 'Default' and 'Strict' buttons under 'Advanced Adjustments' have been completely overhauled and now work dynamically. The panel now recognizes the size of the selection and outputs a result accordingly with the right feathering for the right size. In previous versions, very big or very small selections would not give a result or an inaccurate result. This new feature makes sure you will always end up with a workable result.
– The 'MicroZones' are also completely overhauled in the same sense as the 'Advanced Adjustments' buttons. This means that automatic variable feathering has been included in this section as well and every single part of the image, no matter how big or small the selection is, can be adjusted per zone.
– Added a Split Toning generator with two presets. Just like the B&W generator, the values are handpicked giving the user a unique, a different, and a useable result each time the generator is used. The results are non-destructive and always fully customizable.
System Requirements
PS CC 2015.5 and higher for all versions of Artisan Pro X to v1.3
PS CC 2021 or higher is recommended for B&W Artisan Pro X 2021 and 2022
Mac and Windows compatible
Make sure that your computer can run the latest Photoshop version. See also Adobe's website for specifics.
The panel runs language independently.
Download links:
Password/解压密码:www.tbtos.com