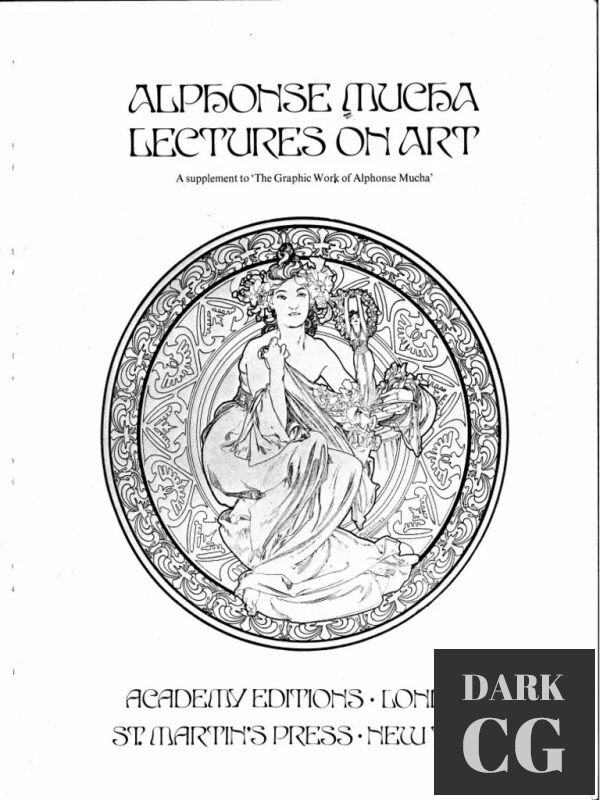 Lectures on art by Alphonse Mucha
PDF | ENG | 39 pages
Alphonse Mucha's Lectures on Art is designed as a supplement to the previously published Graphic Work of Alphonse Mucha. These two books should be viewed as companion volumes, the principles and standards in one serving as the aesthetic basis for the practical realizations documented in the other. Mucha's thoughts on the problems facing the graphic artist offer the most reliable guide to the essential elements of Art Nouveau design, and his discussion of the balancing of masses, the harmony of the human body and the use of colour give a first hand explanation of the characteristics underpinning his own art. The importance and clarity of these lectures have been increased by the inclusion of a series of Mucha's sketches and diagrams, some of them exquisite exercises in miniature, which undoubtedly were designed by the author to illustrate his theoretical points. Moreover, a representative selection of Mucha's own work documents the close relationship between the artist's aesthetic principles and his finished designs, making this collection of lectures one of the most penetrating and valuable analyses, in words and images, of his achievement as a graphic designer.
Password/解压密码:www.tbtos.com